Ahead of graduation, students and donors connect over scholarships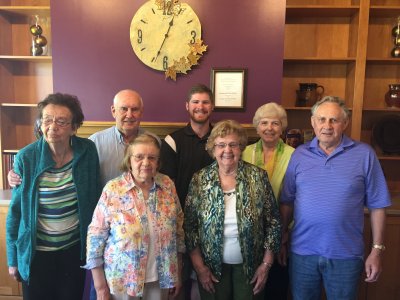 Just days before their graduation, three recipients of several unique scholarships were able to connect with the families responsible for the scholarships that helped them achieve higher education.
Blake Collins '17, Lisette Bermudez '17 and Kamylle Amburgey '17, all recent Goshen graduates and recipients of these scholarships, met with members of the Lehman, Weldy and Hurst families who established the scholarships.
Respectively, the awarded scholarships are the Samuel and Clara Kennel Lehman Scholarship, the Maurice Weldy Scholarship and the Charlotte Weldy Hurst Scholarship. A fourth scholarship that has also been established, but not yet awarded, is the J. Karl Lehman International Scholarship.
---
See all privately funded scholarships at GC
---
The students and family representatives spent time sharing about themselves, where they are going or where they have been as well as their connections to others around the table or the initial scholarship names.
All of the families involved with the establishment and initial funding are connected. Much of the family can be traced back to Samuel H. and Clara K. Lehman, both of whom were born at the end of the 19th century and raised a family of 12 children through the Great Depression era. Samuel and Clara both were denied opportunity to higher education, though as lifelong learners, they valued education and encouraged their children to attend college. Ten of the siblings spent some amount of time at Goshen College. Some of these siblings now represent the scholarship, including Claramae Lehman Klink '49, Jane Lehman '54, Jim Lehman '57 and Gary Lehman '60, all whom were present at the donors' lunch.
Blake Collins, an exercise science major and baseball player from Ludington, Michigan, was the recipient of the Samuel and Clara Kennel Lehman Scholarship. The scholarship is preferential to students such as Collins who pursue studies in medical fields, teaching, social work or ministry, as well as other students who may need financial assistance.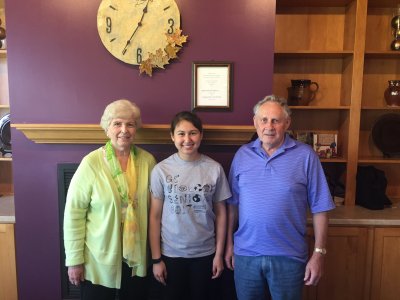 The recipient of the Maurice Weldy Scholarship was Lisette Bermudez, a biology major and track athlete from Streamwood, Illinois. Dr. Maurice Weldy attended Goshen College for a year in 1937, and eventually became an established veterinary in the Wakarusa area. Weldy wanted to aid students interested in natural sciences at Goshen College who needed additional financial aid. Weldy died after a brief illness in 1979, and is survived by his daughter Alice Weldy Lehman '62. Alice is connected to the Lehman family through marriage with her husband, Gary Lehman '60.
The Charlotte Weldy Hurst Scholarship was made in memory of Charlotte Weldy Hurst '66, sister to Alice Weldy Lehman '62, and first wife to Tony Hurst '65, now married to Glenda Hurst '63. Charlotte Weldy graduated from Goshen College with a degree in elementary education, and earned a master's degree in guidance counseling 20 years later while raising her two children, Michael '90 and Benjamin Hurst '94. She was tragically killed by a drunk driver in a car crash in 1985, just a year after beginning an admissions counselor position at Goshen.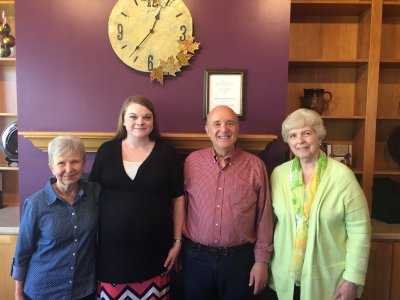 This scholarship was awarded to Kamylle Amburgey, a nursing major. Amburgey fit the scholarship requirements as a mother working her way through college.
"I wanted the scholarship to benefit women who were starting college late or were raising a family while going through higher education as well," said Tony Hurst.
Though there were no recipients this past year, the newest scholarship represented by this group is the J. Karl Lehman International Scholarship. Karl Lehman's parents, Jim '57 and Betsy Lehman, established this scholarship after Karl's death in 2014. Karl Lehman grew up in Hudson, New York, and then moved to India in 1977 with his family, where he attended Woodstock School. Karl found a deep passion for all things German, and traveled to Germany to live with blood relatives and work at a sauerkraut and pickle factory. He made repeated trips back to Germany throughout his educational career, graduating from Earlham College with majors in business and German. Karl had a love for traveling, and did so with his family throughout his later years.
Recipients of this scholarship will be international students in need of additional financial assistance, primarily those from Woodstock School in India. 
All four of these scholarships are endowed, meaning that the funds are invested and student scholarships are provided from earnings on the investments. Endowed funds such as these are intended to last in perpetuity, assisting Goshen College students for generations to come. The combined current market value of the four scholarships is more than $295,000.
- By Joshua Stoltzfus '17
---
Scholarships mentioned in this story:
Samuel and Clara Kennel Lehman Scholarship
Recipient: Blake Collins
Preference: Majors in medical fields, teaching, social work or ministry
Established: 1979
Charlotte Weldy Hurst Scholarship
Recipient: Kamylle Amburgey
Preference: Women starting college late in life or with children
Established: 1989
Maurice Weldy Scholarship
Recipient: Lisette Bermudez
Preference: Majors related to natural sciences
Established: 1985
Karl Lehman International Scholarship
Recipients: None this year
Preference: International students, Woodstock School (India) alumni
Established: 2015