In farewell address, President Brenneman says best is yet to come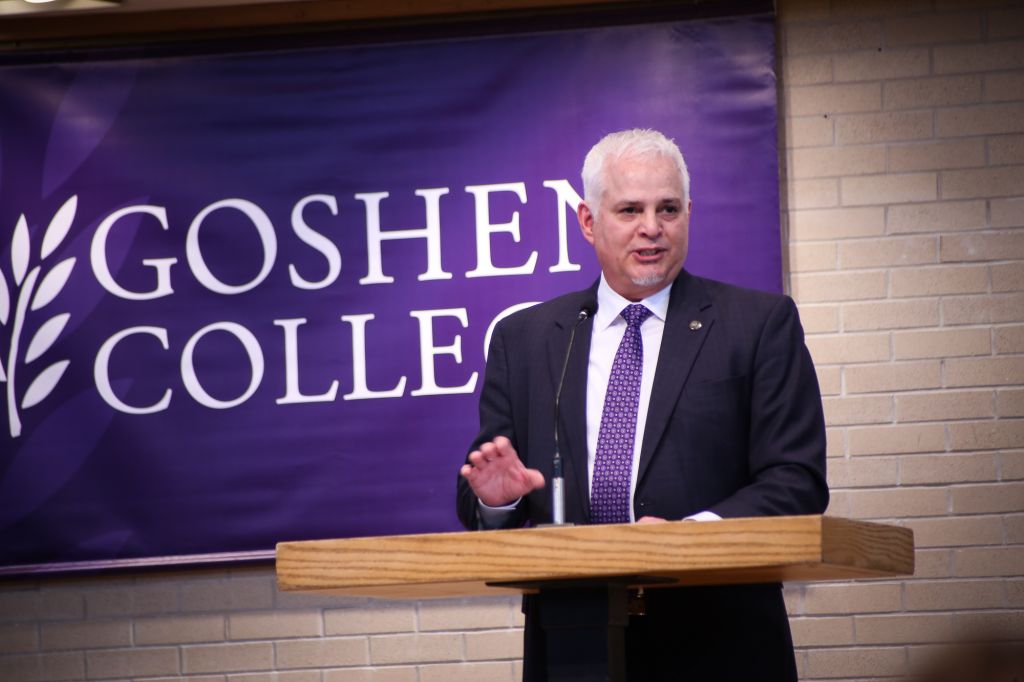 It was a day of great thanks and much celebration as Goshen College President Jim Brenneman offered his farewell address, titled "Back to the Future: Reflections on Being GC's 16th President," to campus during the final convocation of the year on Friday, April 21. He said, "Looking back, I do believe things at Goshen College have changed for the better."
Changes at the college over Brenneman's tenure have reflected his vision for the institution to become a "World House of Learning" that would reflect the intercultural diversity of the worldwide Anabaptist body of believers and the intercultural makeup of the communities the college serves, locally and globally.
---
» Read the full text of the president's speech or watch below
---
---
Brenneman said, "If Goshen College has also, in the process, become closer to that beloved community Martin Luther King Jr. imagined already back when he visited here in 1960, if we have become more Christ-like in our love and embrace of others, whatever their race, creed or orientation, then dare we imagine that there will be no past Goshen College greater than the Goshen College yet to come?"
Chair of the Goshen College Board of Directors Conrad Clemens said via video during the convocation, "Undoubtedly, Jim's greatest legacy has been and will be his desire to create Goshen as a Mennonite-Anabaptist place for all, regardless of who you are or where you are from."
Brenneman launched the Center for Intercultural & International Education in 2006 and three campus institutes in 2011: the Institute for the Study of Global Anabaptism, the Institute for Ecological Regeneration and the Institute for Intercultural Leadership. The total percent of international and intercultural students at GC has since grown from 18 percent (2006-07) to 33 percent (2015-16), and Goshen College's Latino student body has increased from 5 percent to 16 percent during the same period of time.
Local community impact
A centerpiece of Brenneman's vision included Goshen College's full embrace as an anchor institution in the city, state and region.
During his speech he said, "If Goshen College has helped shift the Goshen-Elkhart community conversation around diversity from that of benign neglect, even hostility at times, to that of a noble, economic enriching, attractive asset, then our vision of a vibrant inviting city and community as a truly great place to live, is fast becoming a reality."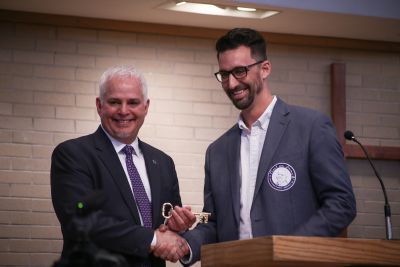 Several community leaders offered words of appreciation and agreement in response. Before presenting him with a gold key to the city as a parting gift of appreciation during the convocation, Mayor Jeremy Stutsman said, "Goshen College, for many years, has been an incredibly important part of the City of Goshen. We used to hear comments about the separation between the college and the city, and Dr. Brenneman, under your leadership, we don't hear those comments anymore. You've taken this institution from being an important part of our city to being an essential part of our community. So for that, we thank you."
And in a video of short tributes shown during the convocation, Elkhart County Commissioner Mike Yoder said, "I appreciate the leadership [Jim] has provided for Goshen College in making [it] such a tremendous asset not just for the Goshen community, but to the entire community in Elkhart County."
During his tenure, Brenneman served on the board of directors for Economic Development Corporation of Elkhart County and Horizon Education Alliance, local organizations; Independent Colleges of Indiana and Crossroads Council of Presidents, state higher education organizations; and Hispanic Association of Colleges and Universities and the Council of Independent Colleges, national higher education organizations.
Environmental impact
Part of Brenneman's legacy will be his commitment to raising the college's visibility of being a leader in environmental sustainability. He was the second Indiana college president to sign the American College & University Presidents' Climate Commitment to work toward a carbon neutral campus in 2007 and was invited by the White House to participate in the American Campuses Act on Climate roundtable in November 2015. In addition to establishing the Institute for Ecological Regeneration, he committed the campus to using 100 percent green energy and formed a campus Ecological Stewardship Committee.
"All this gives me the greatest confidence in saying, there is no past in GC's environmental leadership greater than the ever-greener Goshen College still to come," Brenneman said during his speech.
Thank you
Brenneman concluded his speech with offering gratitude to many. "The greatest gift a liberal arts education can give anyone … is an ever-deepening life-long sense of gratefulness. … I wish to express my deepest thanks to all the makers and the Divine Maker of this wonderful, blessed institution called Goshen College."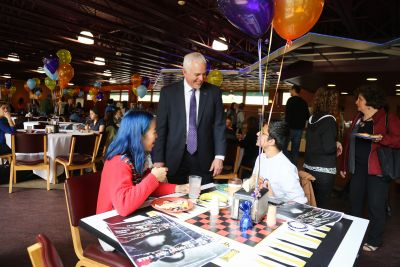 He thanked many people who had influenced him growing up, as well as the many people who joined him in carrying out his vision while he was president. But, he reserved his greatest thanks for all of the students. "You have been my deepest source of inspiration, motivation, rejuvenation and joy. Hands down," Brenneman said. "Without you, without your bright energies, your will to learn, your push-back, your challenges, your enthusiasms, your amazing talents that every single year blow my mind and expand my heart, without you — Goshen College would never be."
The service also included welcome music provided by graduating seniors Sadie Gustafson-Zook and Andrew Pauls, a prayer of blessing by Stanley Green, executive director of Mennonite Mission Network, and a singing of the college's Alma Mater. A public reception followed the convocation, and then a picnic lunch celebration for all campus members.
On June 30, at the end of the 2016-17 academic year, President Brenneman will step down from his role as the 16th president of Goshen College, concluding 11 1/2 years of service to the college.
Timeline: Presidency of Dr. James E. Brenneman (2006-17)
November 2005 — Introduced as presidential candidate of choice and confirmed
July 1, 2006 — Took office as 16th president
Sept. 10, 2006 — Inaugurated
Oct. 25, 2006 — Announced creation of the Center for Intercultural Teaching and Learning, with $12.5 million grant from Lilly Endowment Inc. (now called the Center for Intercultural and International Education)
August 2007 — Nursing department launched first master's degree program: M.S. in nursing program
April 2007 — Signed the American College & University Presidents' Climate Commitment (second Indiana president to do so)
July 2008 — Merry Lea Environmental Learning Center launched M.A. in environmental education program
Jan. 2009 — English department launched the online Center for Mennonite Writing
May 2010 — Reappointed for second term
June 2010 — Created a vision statement and refreshed the strategic plan
August 2010 — Completed cultural audit
March 24, 2011 — Announced launch of three new institutes: Institute for the Study of Global Anabaptism, Institute for Ecological Regeneration and the Institute for Intercultural Leadership
September 2011 — Communication department created FiveCore Media, a video production company
2012 — College re

novated the Union Building and overhauled the general education program (The Goshen Core) to focus on intercultural, international, interdisciplinary and integrated learning

July 2012 — With the City of Goshen, college installed train underpass
August 2012 — College launched iPad initiative, providing every student with their own device
September 2012 — Merry Lea Environmental Learning Center launched the Sustainability Leadership Semester
May 2013 — Committed to using 100 percent green energy for the campus
June 2013 — Center for Intercultural and International Education launched M.A. in intercultural leadership program
May 2014 — Peace, justice and conflict studies program began Inside-Out class in the local county jail
July 1, 2014 — Reappointed for third term
July 2014 — Started Good of Goshen campaign partnership with the City of Goshen, Goshen Community Schools and the Goshen Chamber of Commerce
August 2014 — Business department launched The Collaborative MBA program, with Bluffton University and Eastern Mennonite University
July 2015 — Board updated the non-discrimination policy to include sexual orientation and gender identity
Nov. 19, 2015 — Invited to the White House to participate in the American Campuses Act on Climate roundtable
Aug. 17, 2016 — Announced resignation, effective June 30, 2017
October 2016 — Renamed the Welcome Center to honor the first African-American graduate, Juanita Jewell Lark '43, and renamed the Student Apartments for one of the first Mexican citizen students, Octavio Romero '52
March 11, 2017 — Received the Alfredo G. de los Santos, Jr. Distinguished Leadership in Higher Education Award, presented by the American Association of Hispanics in Higher Education