Red Cents wins six state literary magazine awards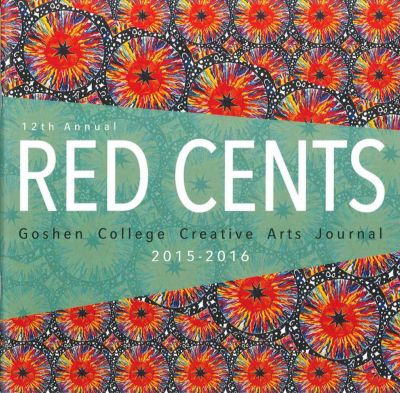 Students from the Goshen College English Department and Art Department won six literary magazine awards for the college's literary journal, Red Cents at the Indiana Collegiate Press Association's (ICPA) annual convention in Indianapolis on April 8.
Red Cents showcases student writing, visual art and graphic design. It is edited and published each year by Goshen College students through the college's Pinchpenny Press. In 2016, Red Cents published its 12th issue under the editorial direction of Madeline Gerig, a senior art major, Joe Kreider, a senior English and writing double major, and Elizabeth Franks-North, a 2016 graduate with a degree in English.
The judges commented: "Red Cents is applauded for its consistency of design and effective use of color in design elements. It is laid out with care and a judicious use of white space."
Red Cents is published by Pinchpenny Press, the college's in-house publishing committee. For the literary magazine awards, students competed among all colleges and universities in Indiana, regardless of size.
"The unique thing about the ICPA literary magazine awards is that there are no tiers - so we are competing with much bigger schools that have much bigger budgets such as Notre Dame, IU, Valpo, Butler, etc.," said Ann Hostetler, professor of English. "So our wins are significant in that context. The literary and art awards testify to the strengths of our creative writers and artists; the best cover design and overall design testify to the strength of editors and particularly graphic designers."
The second place awards included:
Madeline Gerig

, for Best Cover Design for a Literary Magazine.

Courtney Wengerd

, a senior art major, for Best Hand-Drawn Illustration.
The third place awards included:
Madeline Gerig

and

Ginyce Haywood

, a senior art major, for Best Overall Design for a Literary Magazine.

Katie Yoder

, a sophomore

history

major, for Best Short Poem.

Madeline Gerig

, for Best Creative Nonfiction.

Jennifer Richards

, a junior

peace, justice and conflict studies

major, for Best Photo.