Lights, camera, action: Students, staff and alumni lead the way at River Bend Film Festival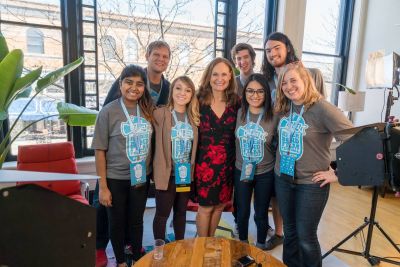 by Jordan Waidelich
With Goshen in its second year of hosting the River Bend Film Festival, Goshen College students, professors and alumni were involved at every level, behind the scenes, coordinating events and showcasing their own work.
David Kendall, professor of communication, served as a main entertainment coordinator alongside his wife, Carrie Lee. Kendall's role included arranging for most of the guests to come to the festival as well as moderating question and answer sessions, talkbacks and coffee talks.
Kendall noted that Goshen College has been involved in a number of different ways, in addition to being a sponsor of the event.
"I think Goshen College has done a great job being involved in the festival," Kendall said, "and we will look for even more creative and innovative ways to be involved in the future."
Students working for FiveCore Media were able to be at nearly every part of the festival, recording events and interviews, along with Kyle Hufford, professor of communication, who led the FiveCore team.
"I love the fact that our FiveCore students get to spend so much time in and around the festival," he said. "Our students get to interview all the special guests and get to go to the parties where they did one-on-one time with the filmmakers. This really gives them a great insight into the industry and the professionals."
For Takoda Friesen, a junior film major working with FiveCore, the festival is exciting, even though it came at a busy time in the school year.
"It was inspiring to see Goshen natives coming back as successful filmmakers hailing from L.A. or New York City," Friesen said. "It's an environment that I really enjoy, and being a part of it has been a highlight of my time here at Goshen College so far."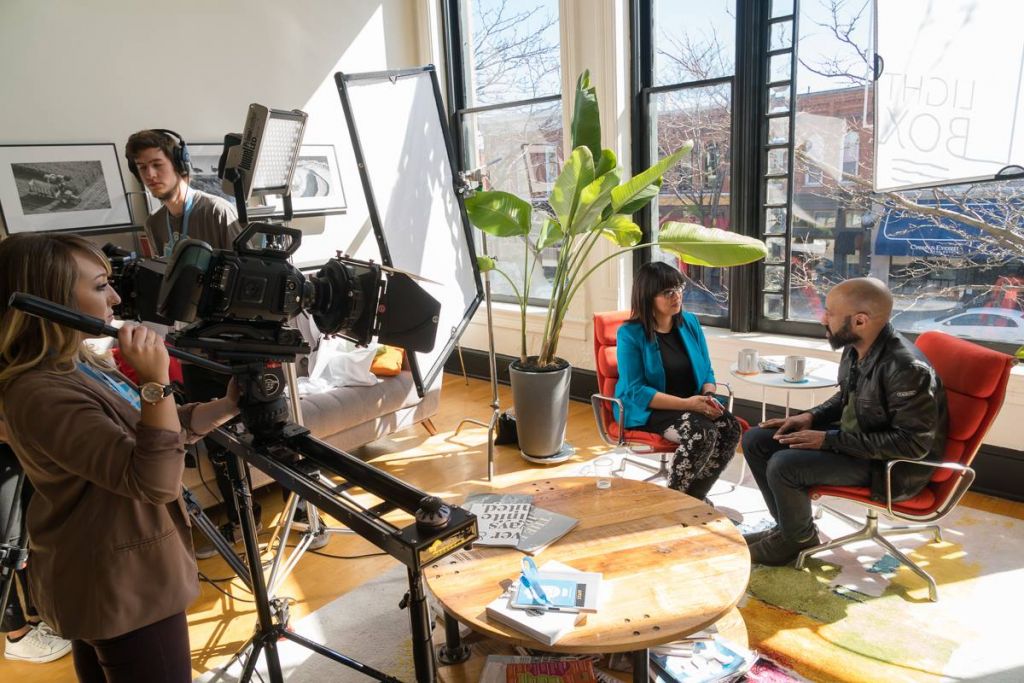 Working with FiveCore, Tabitha Immanuel, a junior film major, was at the festival for most of the weekend.
"I did find it helpful to meet and hear from very experienced filmmakers," she said, "most of whom grew up in Goshen and went a long way."
This year's festival highlighted the work of female filmmakers and filmmakers of color, which was an important aspect of the festival for Immanuel.
"I was happy with the number of female filmmakers and filmmakers of color that were there at the festival," she said. "Last year there were so many male filmmakers and so I was really grateful to hear the perspective of what it means to be a female filmmaker in Hollywood."
But not every Goshen College student at the festival was with FiveCore. Claude Lilford, a first-year studying film, volunteered his time to help at events for the festival.
"The festival is a great opportunity to put your work out there as a filmmaker and to network with other artists, as well as just enjoy cinema," Lilford said. "I was originally worried I wouldn't be able to participate with my academic schedule, but Professor Kendall helped me incorporate the festival into my schedule."
Lilford also appreciated the films from students like Riley Mills, a junior, whose documentary on the Goshen Theater, "Admit One," was screened; Mason Mellinger, a senior, whose documentary on re-enactments, "Living History" was shown; and Jesse Bontreger, a senior, whose short-film, "Sock Puppets" was presented.
"Their quality was so impressive that they made me, as a film student, think back on my own projects and think of how I could have made them better or make future projects higher quality," Lilford said. "It's like a friendly challenge to look at that screen and say to yourself, 'What's stopping me from making something that good?'"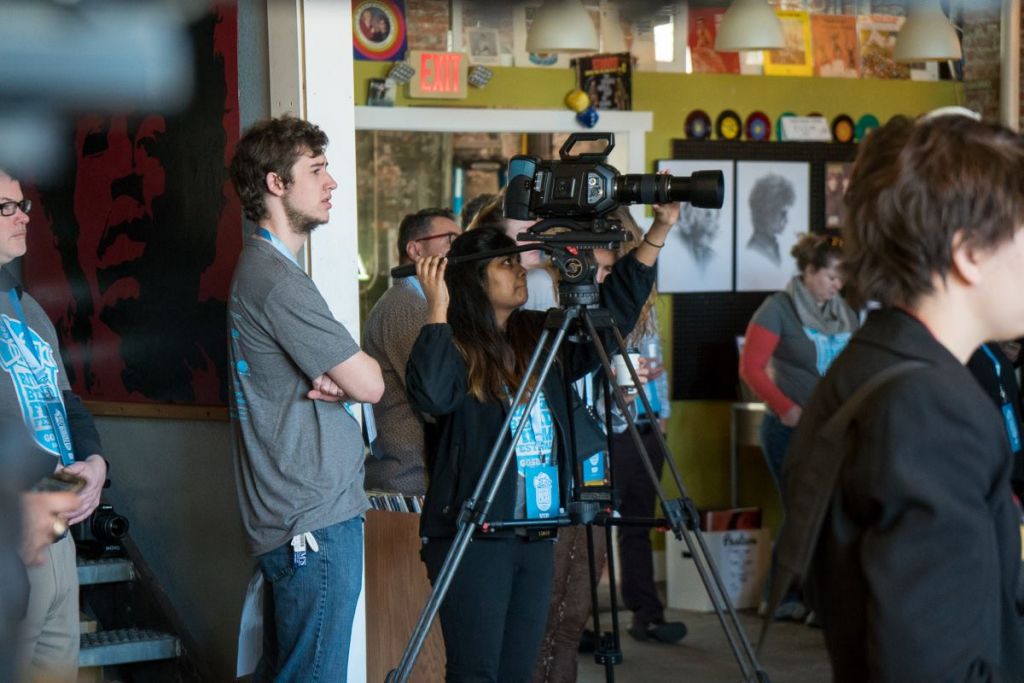 Other student volunteers included Achieng Agutu and Jose Chiquito, who introduced films and blocks of short films, as well as Joanlier Hernandez and Greta Neufeld who volunteered in various capacities.
In addition to the current students who were involved with the festival, a number of Goshen College alumni were there.
Sarah Elizabeth Miller, a 2005 GC graduate, is a makeup artist, now based in L.A. Miller returned to Goshen as a guest of the festival and conducted a makeup workshop and participated in a panel along with other filmmakers, writers and actors.
"I had a few different students from my past years of teaching who were guests of the festival this year," Kendall said. "It was so neat to see them come back to their hometown and share their talents and films at the festival."
Kendall was also instrumental in getting Beth Grant, an actress who has been in over 200 films and TV shows, including"Donnie Darko" and "The Mindy Project."
"I would have to say my favorite moment was getting to listen to Beth Grant share her wisdom about the art of acting," Kendall said. "She shared so much about what drives her passion and how she prepares for her roles."
Other alumni were involved with covering the event for Eyedart Creative Studio, the firm that had a large part in organizing the event. GC Graduates Gina Liechty (1995), Ben Stutzman (1990), Liz Core Shenk (2014), Adrienne Nesbitt (2008) and Jerry Peters (1985) are all employees at Eyedart and had some part in the River Bend Film Festival.
In the coming years, both Kendall and Hufford hope to see the festival grow, along with the involvement of the Goshen College community.
"I hope more of our students get involved in working for the festival as well as more of our student work selected for the festival," Hufford said, "maybe even a few on campus events in future years."
Kendall is also excited for what the future of the festival holds.
"I really look forward to Goshen College continuing its support of the festival," he said. "I feel like there are many more students, staff and faculty that the festival can reach."