Yazan Meqbil, Palestinian sophomore, wins annual peace oratorical contest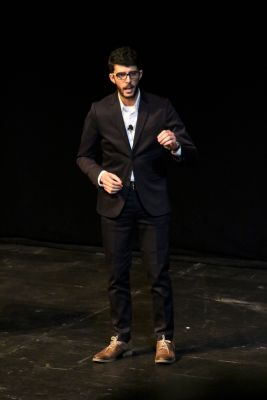 Yazan Meqbil, a sophomore molecular biology/biochemistry major from Hebron, Palestine, won the top prize of $500 at the annual C. Henry Smith Peace Oratorical Contest with his speech titled "Beyond Occupation of Mind and Body." His speech will also be entered in Mennonite Central Committee's bi-national intercollegiate oratorical contest.
"My name is Yazan Meqbil," he said in his speech. "A Palestinian, refugee, Muslim, student, Arab, semi-Jordanian, brown, F-1 visa holder, a threat, a terrorist. My name is Yazan Meqbil, a human being who is marked by all the labels I've just mentioned. A human being who is dehumanized because of his religion, ethnicity, color, nationality and legal status."
Mimi Salvador, a senior peace, justice and conflict studies major from Tena, Ecuador, was runner-up with her speech titled "Indigenous Motherhood in Defense of Life." Salvador was also the first-place winner in the 2016 contest.
Coming in third place, Hitesh Sharma, a junior accounting major from Kathmandu, Nepal, spoke on "Locked Doors, Exploited Modesty and Stripped Autonomy: Feminism Outside the Borders of the United States."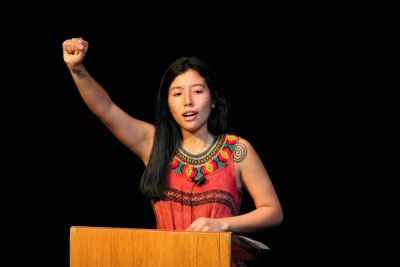 The two other speakers included Alma Rosa Carrillo, a senior interdisciplinary (nursing, sociology, peace, justice and conflict studies) major from Mexico City, Mexico, and Dona Park, a senior history and art major from Abbotsford, British Columbia.
Carillo's speech was titled "Quisieron Enterrarnos, Pero No Sabian Que Eramos Semillas: They Try to Bury Us, They Didn't Know We Were Seeds. Remembering and Continuing the Fight for Justice of the 43 Missing Students From Ayotzinapa." Park's speech was titled "A Perspective of a Korean Canadian Something Maybe American." Park was the first-place winner in the 2015 contest.
"I thought the speeches this year were exceptionally strong and very relevant in light of current political, national and international realities," said Pat Lehman, event organizer and professor of communication. "Our speakers were all international students this year, and I worked hard to find and use judges with international experiences and perspectives."
The judges for the contest included Zulma Prieto, the founding editor of El Puente, a Michiana-area Spanish language newspaper; Tom Meyers, director of international education and associate academic dean at GC; and Jair Hernandez, a 2013 GC alum and alumni board member who won the contest in 2011. Lehman and Leah Stebly, a senior public relations, directed the contest.
Speech contests have been part of Goshen College's history since the early 1900s; the C. Henry Smith contest allows the campus community to hear more about relevant, contemporary issues related to peace.
---
See the archive of past winners.
---