GC Women's World Music Choir to tour Ontario
Concert: Goshen College Women's World Music Choir Home Concert
Date/Time: Sunday, March 5, 2017, 7:30 p.m.
Location: Sauder Concert Hall, Goshen College Music Center
Tickets: $7 adults, $5 seniors/students. Online or (574) 535-7566.
---

The Goshen College Women's World Music Choir will spend their spring break touring and performing in churches and schools in Ontario, Canada from Feb. 25 through March 2, 2017, with a home concert on Sunday, March 5 at 7:30 p.m. in the Goshen College Music Center's Sauder Concert Hall.
The tour theme is "Reflections of Light," and will feature songs from South Africa, Estonia, Bulgaria, China and Israel, as well as from the traditions of the Inuit people of the Arctic Circle, First Nations women and the American spiritual tradition.
Follow along with the choir on their tour by going to their blog.
"In today's social climate, singing the music of another culture while knowing the story of that music and its creators and performers allows us a means of knowing that is personal," said Dr. Debra Detwiler Brubaker, the choir's director and professor of music. "It shows us how to value diverse sounds and stories. Our music will stretch their ears with a variety of sounds and languages. We include movement in many of our pieces, which is delightful to experience. And we feature texts and poetry that is deep and meaningful."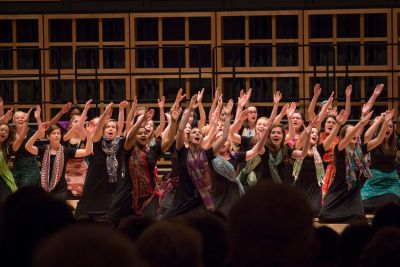 The Women's World Music Choir was formed by Detwiler Brubaker in January, 2004. Its goals are to discover and perform music of many cultures – particularly indigenous cultures – both close to home and abroad. The choir serves to highlight the role of women in these cultures, celebrating the unique spirit and energy that women bring to the world as creators, sustainers and disrupters of life and culture.
"I've always been drawn to music of other cultures that is authentic, powerful and has a story behind it. That is why I made world music the focus of the choir when it was formed in 2004," Detwiler Brubaker said.
The choir has performed music from many places, including India, the Philippines, Mexico, Ireland, South Africa, Swaziland, Guatemala, Pakistan, Ukraine, Bulgaria, Czech Republic, Tanzania, Palestine and Israel, and has sung in over 30 languages during its thirteen-year history. During performances the women sing barefoot and wear fabrics from around the world to affirm their connection to the earth and their solidarity with women from all cultures and stations of life.
---
Full Schedule:
Sunday, Feb. 26 at 10:45 a.m.
Waterloo North Mennonite Church
100 Benjamin Rd, Waterloo, Ontario

Sunday, Feb. 26 at 7:00 p.m.
Joint concert with the Good Hearted Women Singers
St. Jacobs Mennonite Church
1308 King N, Woolwich, Ontario

Monday, Feb. 27 at 7:30 p.m.
Knox United Church
236 Garafraxa N, Durham, Ontario

Tuesday, Feb. 28 at 9:25 a.m.
Chapel at Rockway Mennonite Collegiate
110 Doon Rd, Kitchener, Ontario

Tuesday, Feb. 28 at 2:00 p.m.
Parkwood Mennonite Home
726 New Hampshire St, Waterloo, Ontario

Tuesday, Feb. 28 at 7:00 p.m.
Vineland United Mennonite Church
3327 Menno Street, Vineland, Ontario

Thursday, March 2 at 12:15 p.m.
Chapel at UMEI Christian High School
614 Mersea Rd 6, Leamington, Ontario

Sunday, March 5 at 7:30 p.m.
Sauder Concert Hall,Goshen College Music Center
1700 S. Main St, Goshen, Indiana
---
The choir includes the following members:
Sopranos 1: Achieng Agutu (Kisumu, Kenya), Clara Beck (Archbold, Ohio), Emily Evans (Lititz, Pennsylvania), Sadie Gustafson-Zook (Goshen), Sarah Hartman-Keiser (Wauwatosa, Wisconsin), Emily Hilton-Nickel (San Jose, California), Amanda Leatherman (Portland, Oregon), Emma Koop-Liechty (Goshen), Emily Stoltzfus (Goshen).
Sopranos 2: Abby Banning (Lenexa, Kansas), Rebecca Choi (Arlington, Massachusetts), Lydia Dyck (Durham, Ontario), Joelle Friesen (Normal, Illinois), Brynn Godshall (Lancaster, Pennsylvania), Abigail Graber (Los Gatos, California), Elinor Keener (Lancaster, Pennsylvania), Anja Kenagy (Dix Hills, New York), Lauren Myers (North Manchester, Indiana), Lien Nguyen (Ha Noi, Vietnam), Corrie Osborne (North Manchester, Indiana), Dona Park (Abbotsford, British Columbia), Naomi Peters (Winnipeg, Manitoba), Katie Shank (New Paris, Indiana), Annie Steiner (West LIberty, Ohio), Sharada Weaver (Hyattsville, Maryland).
Altos 1: Rachel Buckley (Elkhart, Indiana), Anne Buckwalter (Wellman, Iowa), Hannah Friesen (Fresno, California), Irina Gladun (Goshen), Megan Graber (Stryker, Ohio), Natalie Graber (Wellman, Iowa), Suzanna Griest (Oak Park, Illinois), Elsa Lantz (Denver, Colorado), Lydia Miller (Ithaca, New York), Greta Neufeld (Lancaster, Pennsylvania), Brooklyn Ries (Freeman, South Dakota), Morgan Short (Goshen), Sarah Shoue (Roann, Indiana).
Altos 2: Magdelena Dutchersmith (Goshen), Roxy Gehring (Manhattan, Kansas), Yejin Kim (Chun-Choen, Korea), Christi Sessa (Goshen), Olivia Smucker (Harrisonburg, Virginia), Emily Vogt (Akron, Pennsylvania), Maggie Weaver (Lititz, Pennsylvania), Annelise Wiebe (Goshen), Ming Woo (Goyang-Si, Korea), Elizabeth Woodworth (Goshen).
Debra Detwiler Brubaker, DMA, is professor of music at Goshen College, where she is involved in the choral, voice and opera theater programs, and teaches related courses. Her graduate degrees are from the University of Kansas and the University of Northern Colorado. Since coming to Goshen in 1999, Brubaker has directed the Goshen College Chorale and Chamber Choir, as well as creating the Women's World Music Choir. She is also the musical and dramatic director for the college's traveling worship ensemble, Parables. The Women's World Music Choir was an invited performer at the 2013 Indiana Music Educators Association conference in Ft. Wayne (Ind.), and has also performed at the 2008 Central Division conference of the American Choral Directors Association in Grand Rapids (Mich.). In addition to touring many parts of the United States and Canada, Dr. Brubaker's choirs are in demand regionally, having performed with the Toledo Symphony, Ft. Wayne Philharmonic Orchestra, and South Bend Symphony. Dr. Brubaker is an accomplished hymn leader, specializing in international music. A recent Maple Scholars research project focusing on indigenous African music with alumni Solomon Fenton Miller and Lisa Horst Schrock and hymnologist and musicologist Dr. Mary Oyer is now housed in the Indiana University Folklore Archives.