Baldanzi to present comics lecture on Valentine's Day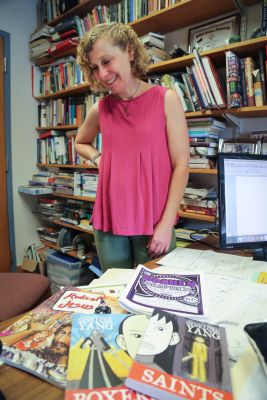 Lecture: Jessica Baldanzi: "I ♡ Comics: The Cultural Power of Comics and Graphic Novels"
Date and Time: Tuesday, Feb. 14, 2017, 1 p.m.
Location: Goshen College Music Center's Sauder Concert Hall
Cost: Free and open to the public
---
Jessica Baldanzi, associate professor of English at Goshen College, will share her expertise on comics and graphic narratives on Feb. 14 at 1 p.m. in Sauder Concert Hall.
At her lecture, titled "I ♡ Comics: The Cultural Power of Comics and Graphic Novels," Baldanzi will review the language of comics, as well as their unique power — from Art Spiegelman's "Maus," which won the Pulitzer Prize in 1986, to the new Ms. Marvel — to negotiate difficult cultural conversations.
Baldanzi designed and developed the college's course on comics and graphic narratives, writes the comics review blog Commons Comics for the "Elkhart Truth," and is co-editing a collection of scholarly essays on Kamala Kahn, the new Ms. Marvel.
Read more about Jessica Baldanzi and graphic novels
This event is presented as part of the 2016-17 Afternoon Sabbatical program, a yearly lecture series with on-campus programs held on a tuesday each month during the school year and bus trips for off-campus tours.
Future events in the Afternoon Sabbatical series include:
March 14, 2017, 1 p.m. — Michelle Horning: "Nurturing Our Entrepreneurship Ecosystem"

April 4, 2017, 1 p.m. — Debra Detwiler Brubaker: "Women's World Music Choir: 'Creating, Sustaining, Disrupting'"

May 16, 2017, 1 p.m. — "Salzbergen: Bass-Baritone Njål Sparbo and Friends"

Sept. 19-21, 2017 — Theater Trip to Niagara-on-the-Lake