From 'Maus' to Ms. Marvel, English professor incorporates graphic novels into curriculum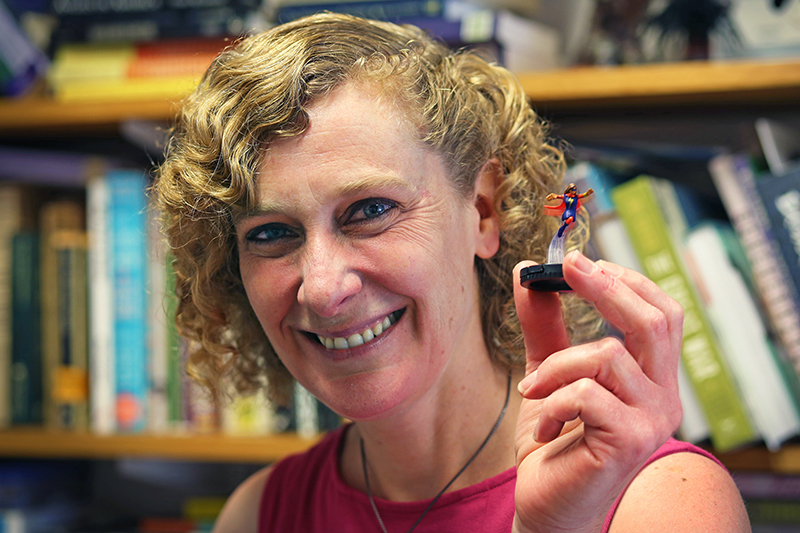 The first time that Jessica Baldanzi considered comics as a scholarly topic was during her time as a graduate student, when she taught a class on different forms of representing trauma in American history alongside a professor on her dissertation committee. One of the texts that they chose for the class was "Maus" by Art Spiegelman, a holocaust survivor's tale and the first graphic novel to ever win a Pulitzer Prize.
"'Maus' was one of the first things that showed [graphic novels] are really powerful and really important," she said. "It was a great way to watch students engage with the text and understand how literature and creative expression are important."
A comics aficionado and associate professor of English, Baldanzi now teaches a course on graphic novels and has given several scholarly papers about the new Ms. Marvel.
"It's a medium that a lot of people think is so simple, but when it's done well it helps draw people in through the visual, and then complicates rather than simplifies," she said.
Baldanzi grew up in New Jersey, close to New York, where she read many of her older brother's comics. "I would read a lot of his, then also read the ones that were 'for girls,' mostly 'Betty and Veronica' and 'Archie,' she said. "But I also read a lot of 'Spiderman.'"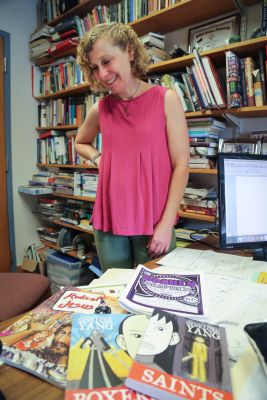 Baldanzi appreciated the freedom she had at Goshen College to teach in many different areas of study — especially when she proposed the idea for a May term class about graphic novels and the college told her to go for it.
The graphic novel class has since transitioned into a semester-long course, during which students read and discuss as many books as they can and eventually create their own autobiographical graphic novel segments. For beginners, understanding graphic novels may be harder than it sounds.
Baldanzi said that a fellow professor once overheard students talking about the class. "They said, 'We have to read the words and the pictures!'" she said with a laugh. "To read the words and the pictures at the same time takes a high level of concentration, and it really takes practice. It's a lot harder to do well than people realize."
This characteristic of comics and graphic novels is what sets them apart from other genres of storytelling. "It's not just about distilling stories into icons," she said. "It's also that the words and pictures together create something that just words or pictures can't. It's not just an illustrated book."
Along with teaching, Baldanzi also continues to develop her own academic pursuits. She writes a blog for the Elkhart Truth called Commons Comics, where she reviews comics and graphic novels, and is co-editing a collection of scholarly essays about the new comic superhero Ms. Marvel.
Ms. Marvel is a Pakistani-American teenage girl named Kamala Khan, and she is Marvel's first Muslim character to claim her own book. Baldanzi presented a paper called "The New Ms. Marvel: 'Inhuman' Teen, Muslim Superhero, Cyborg Goddess" at the Pop Culture Association and American Culture Association's conference in Seattle this March.
"Ms. Marvel helps young people and kids realize the stereotypes of immigrants," she said. "These are real people, teenagers [and] complicated people, and there are different types of Muslims and Muslim women."
Baldanzi will give an Afternoon Sabbatical lecture on February 14, 2017 at 1 p.m. in Sauder Concert Hall on the importance of comics and graphic novels. She also worked with Mary Roth '13 to co-edit a special graphic novel issue of the Journal of the Center of Mennonite Writing, which includes contributions from former and current GC students including filmmaker Jim Strouse '99.
— By Grace Weaver '16