Goshen College and Goshen Health partner to provide bachelor's degrees for registered nurses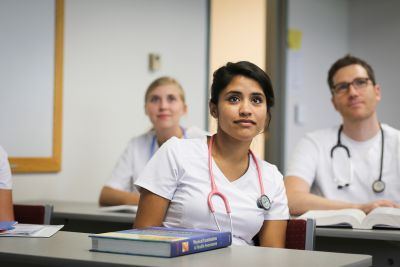 Goshen College and Goshen Health are working together to help registered nurses who work for Goshen Health to complete their bachelor's of science in nursing (BSN).
In 2010, the Institute of Medicine (IOM) released a report calling for 80 percent of the nursing workforce to hold a BSN by 2020. Due to this mandate, eligible registered nurses at Goshen Health will have the opportunity to obtain a BSN from Goshen College, with all costs covered by Goshen Health, while continuing to work.
"It is a great partnership that helps Goshen Health System reach the 2020 goal, maintain their magnet status and even helps with overall employee retention, while also helping Goshen College reach more adult students," said Jewel Yoder, director of the college's RN to BSN program.
The first cohort of 14 students began earlier this month, with a second cohort scheduled to begin in late February and a third group lined up for August 2017.  
"This partnership with Goshen College is an example of nursing excellence at Goshen Health," said Julie Crossley, chief nursing officer at Goshen Health. "We are thrilled to provide this opportunity to 45 colleagues within our nursing team and we believe this is just the first of future opportunities with Goshen College."
In August 2016, Goshen College began to offer a fully online 18-month RN to BSN degree program, providing registered nurses around the country an opportunity to earn a bachelor's degree from a top-tier nursing program while working full-time.
As one of the first colleges to offer a BSN degree in Indiana, more than 1,400 Goshen College graduates have established themselves in successful careers as registered nurses. GC's nursing program is highly respected in the United States and abroad; graduates are known by their ethical standards, personal integrity, faith commitment, caring attitude and clinical knowledge.
In addition to the on-site and Online RN to BSN programs, Goshen College offers an on-site RN to BSN program at Elkhart General Hospital and Glen Oaks Community College in Centreville, Michigan. Goshen College also offers a traditional BSN program and a Master of Science Degree in Nursing with a Family Nurse Practitioner focus.
Goshen College is accredited by the Higher Learning Commission, and the nursing programs are accredited by the Commission on Collegiate Nursing Education.
About Goshen Health
Goshen Health is an award-winning health system that is recognized locally and nationally for its innovation, excellence in patient care, and Colleague workplace satisfaction. The organization has achieved these honors by taking a values-driven approach to health care, focusing on compassion, accountability, respect and excellence in every endeavor.