Folk artists Carrie Newcomer and Over the Rhine team up for Sept. 18 concert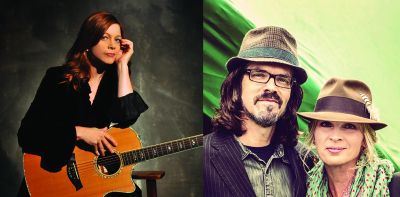 Concert: Carrie Newcomer and Over the Rhine
Date: Sunday, Sept. 18, 2016
Time: 7:30 p.m.
Location: Goshen College Music Center's Sauder Concert Hall
Cost: $40, $35 or $25, Buy tickets
---
Goshen College Alumna Carrie Newcomer and the wife-husband folk duo Over the Rhine will open the 2016-17 Performing Arts Series at Goshen College Music Center's Sauder Concert Hall on Sunday, Sept. 18 at 7:30 p.m.
Newcomer, a singer-songwriter based in Indiana, explores the intersection of the spiritual and the daily through her music. Described by Billboard as a "soaring songstress," she uses her Quaker roots and extensive travel to pursue humanitarian and social justice goals.
"I am one of a growing number of people that do not want to put the sacred in such a small container," said Newcomer.
Over a career spanning 34 years, Newcomer has released 15 solo albums and collaborated on eight more. A prolific writer, in 2014 she also published a book of essays and poetry titled "A Permeable Life."
Newcomer presented Goshen College's 2016 commencement address titled "Three Things," in which she encouraged students to "be true, be kind and pay attention."
The double-bill concert will also feature Linford Detwiler, pianist and guitarist, and Karen Bergquist, vocalist and guitarist, who form the Cincinnati-based duo Over the Rhine. Their most recent album is titled "Blood Oranges in the Snow."
Over the Rhine is known for Bergquist's compelling, soothing and earthy voice, as well as insightful lyrics which often explore God, love and death.
Detwiler said, "Music is a wonderful platform for discovering what we believe is true."
Tickets are $40, $35 or $25 and can be purchased through the Goshen College Welcome Center (574-535-7566, welcomecenter@goshen.edu) or online at www.goshen.edu/tickets.
Future concerts in the Performing Arts Series include:
1, 2016, 7:30 p.m. – Marc Cohn
28, 2016, 7:30 p.m. – VOCES8
13, 2016, 7:30 p.m. – Cherish the Ladies: A Celtic Christmas
29, 2017, 7:30 p.m. – Branford Marsalis Quartet with Kurt Elling
10, 2017, 7:30 p.m. – Ladysmith Black Mambazo
28, 2017, 7:30 p.m. – The National Symphony Orchestra of Ukraine
March 10, 2017, 7:30 p.m. – Pink Martini
March 31, 2017, 7:30 p.m. – tenThing
May 2, 2017, 7:30 p.m. – Che Malambo