Ira Glass talks reporting, storytelling in interview with FiveCore Media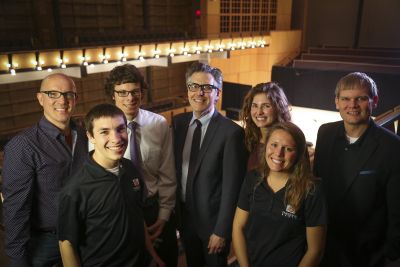 A team of Goshen College students, alums and faculty working with FiveCore Media had the opportunity to film an interview with a radio hero this spring — NPR's Ira Glass, host and producer of the popular radio show "This American Life."
Although he was scheduled to present a Performing Arts Series show on March 19, Glass had to postpone his visit due to an unavoidable scheduling conflict. The new date didn't allow for the guest class he had planned to teach at the college, so the interview was arranged instead.
JD Hershberger, a senior broadcasting major from Hesston, Kansas, and station manager at 91.1FM The Globe (WGCS), said that he was approached about three days before and asked to conduct the interview.
"It was very intimidating, but at the same time, I knew Ira would give a good interview," said Hershberger.
As an upcoming member of the radio community, Hershberger took the opportunity to ask Glass — who started working for NPR at only 19 — questions about media and storytelling. "I found myself just getting to ask stuff that I wanted to know about the field and how he got there," he said. "It's very interesting to hear how he was so successful that early and kept the momentum going."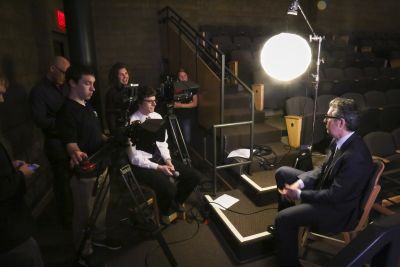 During the interview, Glass encouraged young people who are interested in reporting or storytelling to "just start" doing it.
"Don't wait," he said. "Don't wait for permission, don't wait till you get in the right job, don't wait till you feel differently about yourself, don't wait till you lose fifteen pounds, don't wait till you feel up to the task. You're up to the task right now to start."
Members of the FiveCore Media production team included Jake Smucker '15, assistant producer; Elizabeth Derstine '16, production assistant; Carley Wyse, production assistant; David Kendall, associate professor of communication; and Kyle Hufford, general manager.

Check out the full interview below.