Water rights speech takes first place in peace oratorical contest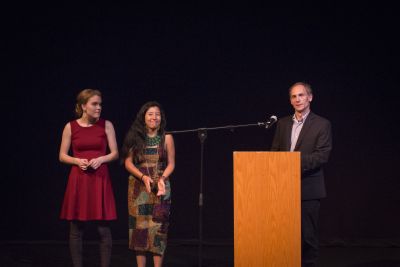 With her speech titled "Privatizing Agony, Protecting Sacred Waters," Noemi Salvador won the college's C. Henry Smith Peace Oratorical Contest on March 15, with a top prize of $500 and a chance to enter her speech in the bi-national intercollegiate oratorical contest. Salvador, a junior peace, justice and conflict studies major from Kitu Cara, Ecuador, spoke about the privatization of water resources and its effect on communities.
"Let's honor our moral fiber and choose which side you are on," she said. "To be honest with you, I will rather fight until the day I die with the help of the Creator, than wake up to explain to my children why their home was destroyed and their water privatized, and we as a society did nothing about it."
Christina Hofer, a senior theater major from Dolton, South Dakota, was runner-up with her speech titled "Discrediting the Single Story of Islam."
Coming in third place, Morgan Yordy, a sophomore history and peace, justice and conflict studies major from Rochelle, Illinois, spoke on "All About That Bass: It's Time for a Body Revolution."
The two other speakers included Alma Rosa Carrillo, a junior interdisciplinary (nursing, sociology, peace, justice and conflict studies) major from Mexico City, Mexico, whose speech was titled "The Other Side of the Fence," and Peter Meyer Reimer, a senior biology and interdisciplinary major from Goshen, whose speech was titled "What Evil Is, And Why It's Us, You Included."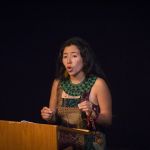 The judges for the contest included Regina Shands Stoltzfus, assistant professor of peace, justice and conflict studies at Goshen College; Carrie Lee Bland-Kendall, a local singer, actor and producer; and Michael Yeakey, an English teacher at Bethany Christian Schools. Duane Stoltzfus, professor of communication at Goshen College, and Achieng Agutu, a sophomore public relations and Spanish major, directed the contest.
Speech contests have been part of Goshen College's history since the early 1900s; the C. Henry Smith contest allows the campus community to hear more about relevant, contemporary issues related to peace. See an archive of past winners.