Goshen College Chamber Choir sing thanks on spring break tour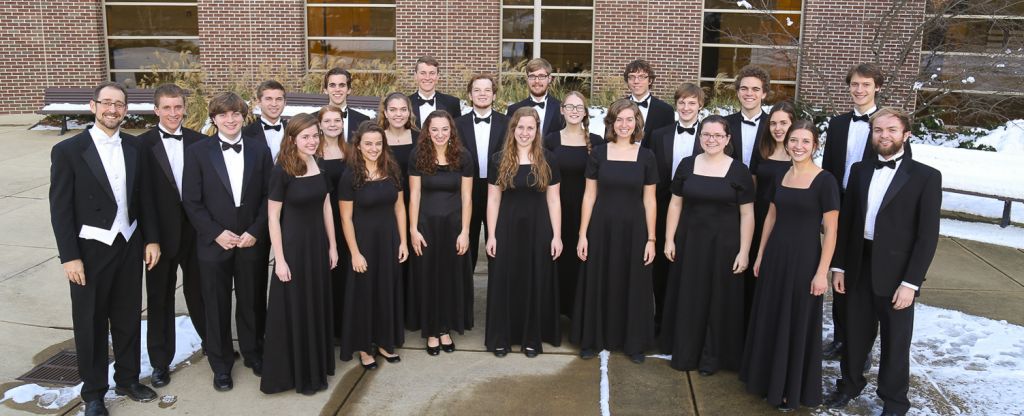 The Goshen College Chamber Choir will spend their spring break touring and performing in churches and schools in New York, West Virginia, Pennsylvania and Ohio from Feb. 21-26, 2016, with a home concert on Sunday, Feb. 28 at 7:30 p.m. in the Goshen College Music Center's Sauder Concert Hall.
The tour theme is "I Thank You God," taken from a work by Eric Whitacre with text by e.e. Cummings, featuring music that gives thanks for the myriad ways that God provides for our communities.
---
Follow along with the choir on their tour by going to their blog.
---
"I'm so excited to share this beautiful, powerful music," said Dr. Scott Hochstetler, associate professor of music and Chamber Choir director. "We look forward to visiting all the churches and schools and creating lasting memories with each other and with our audiences."
Selections include contemporary a cappella motets, string-accompanied works from the Classical and Romantic eras, spirituals and multicultural music in English, Latin, Yoruba, Norwegian and German. Dr. Jose Rocha, associate professor of music, will play cello on a number of pieces.
In two concerts, local high school choirs will join the Goshen College Chamber Choir. On Feb. 22, the Chamber Choir will share the stage with the Carthage Central High School Treble Choir, Chorale and Camerata Singers, and on Feb. 23 with the Ithaca High School Chamber Choir.
In May 2015, the Goshen College Chamber Choir performed live on A Prairie Home Companion, heard by more than three million listeners. In a recent interview with the Indianapolis Star, Garrison Keillor said it was one of his favorite performances.
The Goshen College Chamber Choir is an auditioned group ranging from 20-40 students, performing secular and sacred music from the Medieval through Modern periods. The group is open to all majors and grade levels. In addition to performing with area and regional orchestras, the Chamber Choir performs numerous solo concerts both on and off campus during the school year.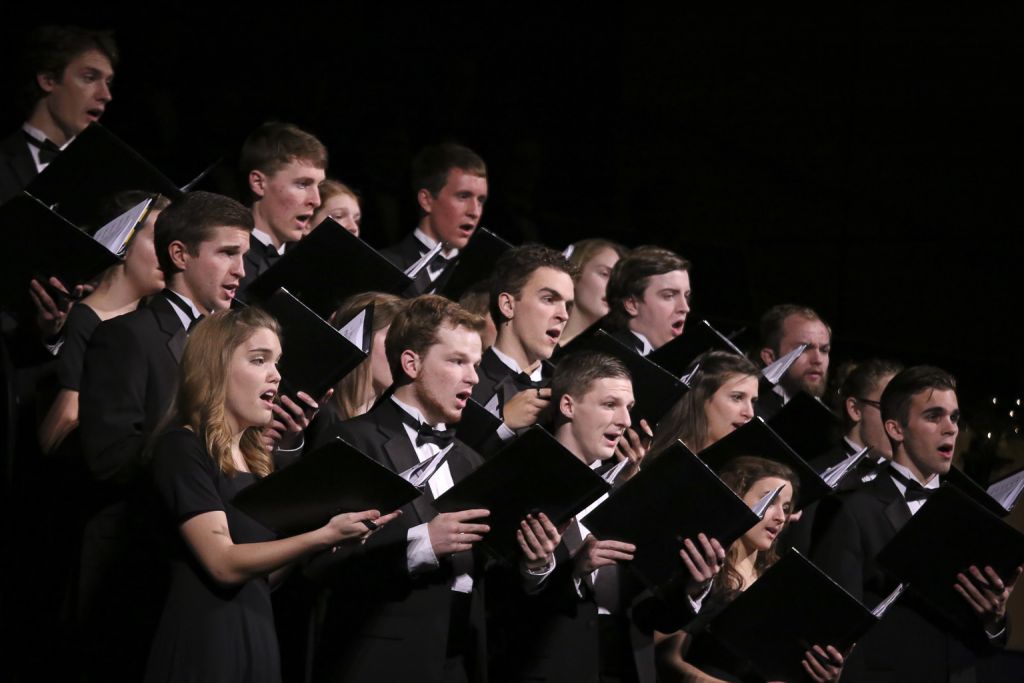 The choir includes the following members: Sopranos: Clara Beck (Archbold, Ohio), Miranda Earnhart (Milford, Ind.), Christina Hofer (Dolton, S.D.), Cecilia Lapp Stoltzfus (Mount Rainier, Md.) and Emily Stoltzfus (Goshen); Altos: Anne Buckwalter (Wellman, Iowa), Maddy Garber (Lancaster, Pa.), Lydia Miller (Ithaca, N.Y.), Naomi Peters (Winnipeg, Manitoba), Katie Shank (New Paris, Ind.) and Morgan Short (Goshen); Tenors: Martin Flowers (Nappanee, Ind.), Simon Weaver (Madison, Wis.), Bryan Yoder (Manheim, Pa.) and Jacob Zehr (Carthage, N.Y.); Basses: Ben Ganger (Goshen), Aaron Graber (Lost Gatos, Calif.), Mark Kreider (North Newton, Kan.), Caleb Liechty (Archbold, Ohio), Peter Paetkau (Goshen), Ben Wiebe (Goshen), Matt Wimmer (Telford, Pa.) and Paul Zehr (Carthage, N.Y.).
Scott Hochstetler, DMA, is associate professor of music at Goshen College, where he teaches in the choral, vocal and opera theater programs. Dr. Hochstetler is a diverse conductor, having led church, school, college and community ensembles, and worked with singers from novice to professional. Under his direction, the Goshen College Chamber Choir performed live on A Prairie Home Companion in May 2015. Hochstetler regularly clinics choirs and has led groups on tours throughout the United States and Canada. As a baritone, Dr. Hochstetler has performed opera and oratorio roles and given recitals in Indiana, Michigan, Ohio and Oregon. With graduate degrees from the University of Michigan and Michigan State University, Dr. Hochstetler has studied conducting with David Rayl, Sandra Snow, Jonathan Reed, Jerry Blackstone, Theodore Morrison and Kenneth Kiesler, and he has studied voice with Leslie Guinn, Stephen Lusmann and Doyle Preheim.
The Goshen College Music Department offers a bachelor's degree with concentrations in music education, performance, music technology, piano pedagogy and music in worship. Seventy-five students major or minor in music and enjoy participation in five choirs, staged musicals and operas, orchestra, wind ensemble and jazz band. The Music Department is housed in the Goshen College Music Center, built in 2001. The Music Center features the 1,000-seat Sauder Concert Hall, the 300-seat Rieth Recital Hall, rehearsal and practice rooms, classrooms, teaching studios, a recording studio and an art gallery. The Community School of the Arts, located in the Music Center, provides teaching experience and leadership training for Goshen College students. The Performing Arts Series regularly brings prominent national and international musicians to the Music Center.
SCHEDULE
Sunday, Feb. 21 at 10 a.m.
Clarence Center – Akron Mennonite Church
11500 Clarence Center Rd.
Akron, New York 14001
Monday, Feb. 22 at 7:30 p.m. 
Joint concert with the Carthage Central High School Treble Choir, Chorale and Camerata Singers
Carthage Central High School
36500 NY-26
Carthage, New York 13619
Tuesday, Feb. 23 at 7 pm.
Joint concert with the Ithaca High School Chamber Choir
St. Paul's United Methodist Church
402 N. Aurora St.
Ithaca, New York 14850
Wednesday, Feb. 24 at 6:15 p.m. (concert) and 7 p.m. (Mass)
Saint James Catholic Church
49 Crosswinds Drive
Charles Town, West Virginia 25414
Thursday, Feb. 25  at 7 p.m.
East Chestnut Street Mennonite Church
432 E Chestnut St
Lancaster, Pennsylvania 17602
Reception Following
Friday, Feb. 26 at 2 p.m.
Chapel concert
Central Christian School
3970 Kidron Rd.
Kidron, Ohio 44636
Sunday Feb. 28 at 7:30 p.m. 
Home Concert
Sauder Concert Hall
Goshen College
Goshen, IN 46526