Latino Scholarship Dinner inspires next generation to change the world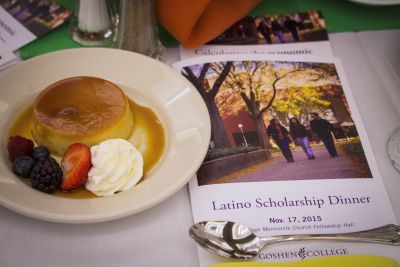 On Nov. 17, Goshen College held a long-awaited dinner to celebrate its Latino students and to raise more funds for future scholarships.
Related: Scholarship dinner will benefit the growing number of successful Latino students
This event was the first dinner celebration of the scholarships that support the Latino students of Goshen College and included a variety of inspirational speakers, including students, community members and Goshen College President Jim Brenneman, as well as music by local band Lalo Cura.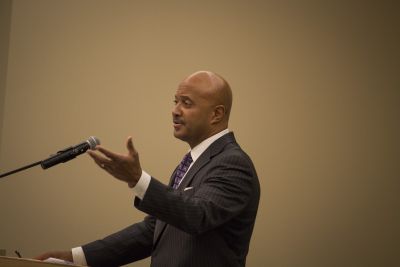 The Master of Ceremonies of the event was the Elkhart Prosecuting Attorney Curtis Hill. He explained the value of uniting members of different communities and talked about the importance of money to contribute to the lives of Latino students and their families. "Amazing things happen by caring," he said.
President Brenneman noted that a significant donation has brought them closer to reaching their goal of $50,000. "This is a dream come true," he said.
PHOTOS: Latino Scholarship Dinner
Janeth Vela, a junior nursing major and soccer player from Goshen, spoke about her experience of getting to college. She mentioned one of her reasons for pursuing nursing, saying that she wants "to help the people feel better." Vela concluded by saying that, "my story is one of many."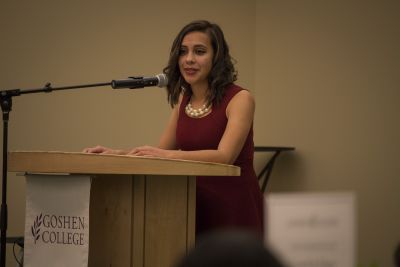 Rebecca Kubacki, former Indiana state representative and one of the organizers of the dinner, spoke about her history of growing up in a migrant family, picking tomatoes and travelling around the country. Her hard work and determination eventually led her to become the first Latina republican representative in Indiana.
She talked about the excitement she felt "about the future of Latinos, not only in Goshen, but in the United States."
"All great people have left their mark on their country, where is your mark going to be?" asked Kubacki. "I believe that you will be the next great generation."
Edgar Saucedo-Davila, a sixth grade teacher in Goshen Middle School and graduate of Goshen High School and Goshen College, spoke of his desire to be a role model for young Latinos in the community.
"I want to become a role model for the Latinos that have difficulties," he said. "Education is the most powerful weapon that you can use to change the world."
Following Saucedo-Davila, Alexa Valdez, a senior social work major and president of the Latino Student Union at Goshen College, told her story. She talked about the support of the community of Goshen and of her husband to help realize her dream of studying social work. Valdez dreams to one day "create more equality for everyone."
"Many Latinos in the community have the same dream that I have: to help their families and to stay in the community," she said.
Isaías "Toby" Faustino, a senior education major at Goshen College who also serves as the freshman football coach at Goshen High School, spoke about the hard work of those who came before him.
"My parents were always models for me to follow, they worked so hard to help my family," Faustino said. "I hope that one day I can help someone in the same way that the Goshen High School football team helped me."
Isaac Torres, founder, CEO and president of InterCambio Express, expressed the importance of an event such as this dinner.
"We are making history by putting on an event like this one at Goshen College," he said. "One of the best things is appreciating who we are."
He also talked about his personal objective for Latinos, asking the question "Why can't we make Elkhart County the county with the most Latino college students in Indiana?"
In his speech, Torres emphasized how important education is to develop the Latino community.
"Education is a big change that requires a lot of sacrifice," he said.
He closed with an idea that everyone there could relate to: "Education does not change the world; education changes the people who change the world."
– By Luis Pérez Lerchundi