Scholarship dinner will benefit the growing number of successful Latino students
About the event:
What: Goshen College Latino Scholarship Dinner
When: Nov. 17, 2015, 6 p.m.
Where: Fellowship Hall of College Mennonite Church
Why: To raise $50,000 for Latino student scholarships
How to help: Become a sponsor for $5,000, $2,500 or $1,000 or reserve a single seat or a table for eight at the dinner
Learn more: Send an email to give@goshen.edu or call (574) 535-7564.
---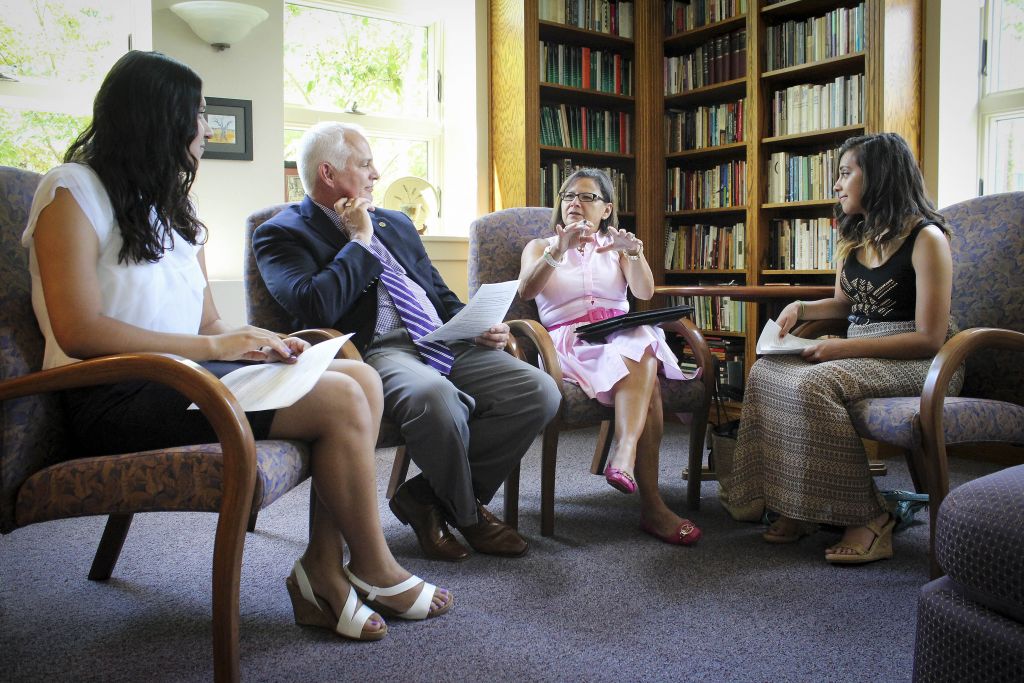 When Janeth M. Vela and Alexa D. Valdez were seniors at Goshen High School, attending college seemed like a distant dream – though not from a lack of desire or talent.
When she was 4 years old, Vela was brought to Goshen from Mexico by her parents and was taught early the value of education. "My parents always told me, 'You're going to college no matter what,'" she said.
Valdez, who was born in Goshen, heard a similar message from her parents, who also had roots in Mexico. "They always told me the same thing, well, actually two things – no boys and you're going to college," Valdez recalled with a smile. "My parents always had me involved in things because they wanted me to have a real good college application."
Vela and Valdez did well enough in high school to earn acceptance to college and hoped to become professionals and help serve the needs of Goshen's fast-growing Latino community. But they lacked the funds to enroll in college and had no parental help to navigate the complexities of application and financial aid procedures.
Then they applied to Goshen College.
"Honestly, Goshen College was the most helpful college," Valdez said. "I had a lot of people backing me up and they were very supportive."
For Vela, Goshen College was her one and only choice.
Today, thanks to generous financial aid and coaching and encouragement from counselors, professors and mentors, they are thriving as juniors at Goshen College and preparing for careers – Vela as a pediatric nurse and Valdez as a social worker.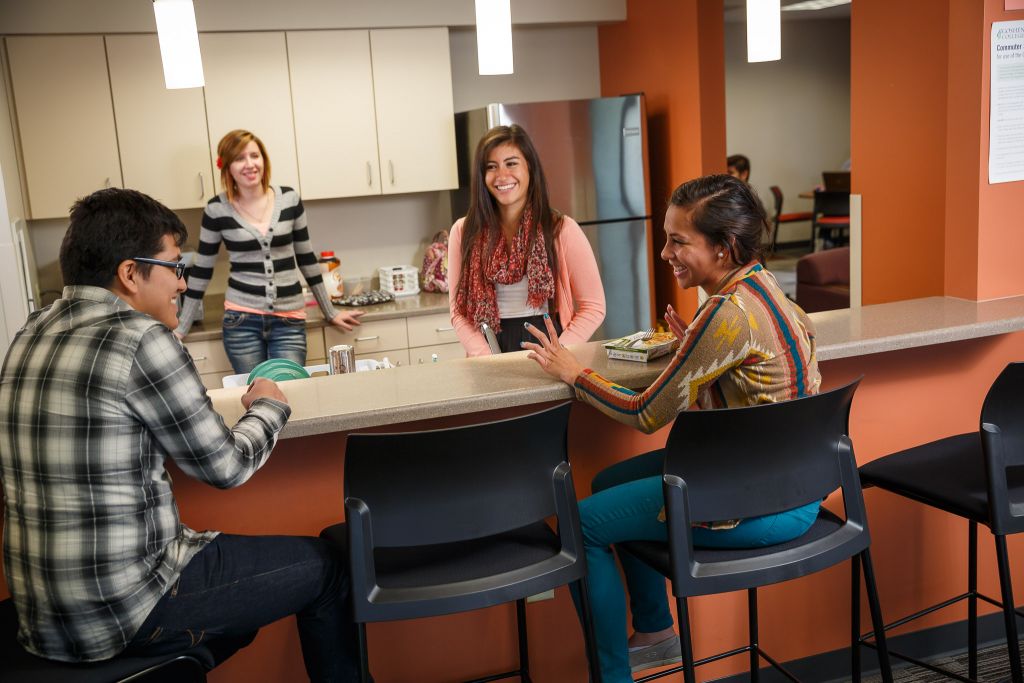 While they pursue their bachelor's degrees, Vela and Valdez also are helping spread the word that Latino students can make their college dreams come true if they work hard and pursue opportunities. And they have two influential allies – Goshen College President James E. Brenneman and former State Rep. Rebecca Espinoza Kubacki of Syracuse.
Brenneman and Kubacki are hosting the first Latino Scholarship Dinner at Goshen College on Nov. 17 to raise funds for deserving students.
Their ambitious goal: to raise $50,000 for scholarships.
Brenneman and Kubacki are asking regional business and community leaders to donate to the scholarship fund as well as purchase seats and tables for the dinner, which will be held in the Fellowship Hall of College Mennonite Church. The dinner will feature a catered meal, guest speakers and musical entertainment.
Vela believes the growing number of Latino students in Elkhart County are worthy of the community's investment.
"Kids always have dreams and if you support them, then those dreams can be achieved and then good things start happening," Vela said. "But if you don't, then you're already giving them a setback and they'll start lowering their expectations in life."
Valdez agrees: "Latinos are very hard workers and that's been passed down; that's something that all students carry with them from their parents, whether we're able to go to college or not. And I know that if people give to the college, the money would be used well and Latinos would work hard and they (donors) would see results."
Brenneman said Latinos are essential to the continued prosperity of Elkhart County and that Goshen College has succeeded in its efforts to recruit, retain and graduate Latinos.
"As an anchor institution in Elkhart County, we believe the community has to begin to appreciate that we will not survive, much less thrive, if we don't find a way to educate our immigrant population," Brenneman said. "During the Industrial Revolution, in this very area, we had Polish, Italian, and Appalachian immigrants. We needed them for our factories, but they really didn't need an education; they went straight to the factories to get good jobs.
"That was then. Now, we still need immigrants and population growth. That's number one on Gov. Pence's economic agenda; we need more people moving into Indiana if we're going to survive as a state," Brenneman said.
"And how do you get people to move in? Well, we have the benefit of already having people move to Elkhart County," he said. "Unlike the Industrial Revolution, today's revolution also requires that this same group of people need to be educated. You put the two together and it's a perfect mix for a thriving, vibrant community."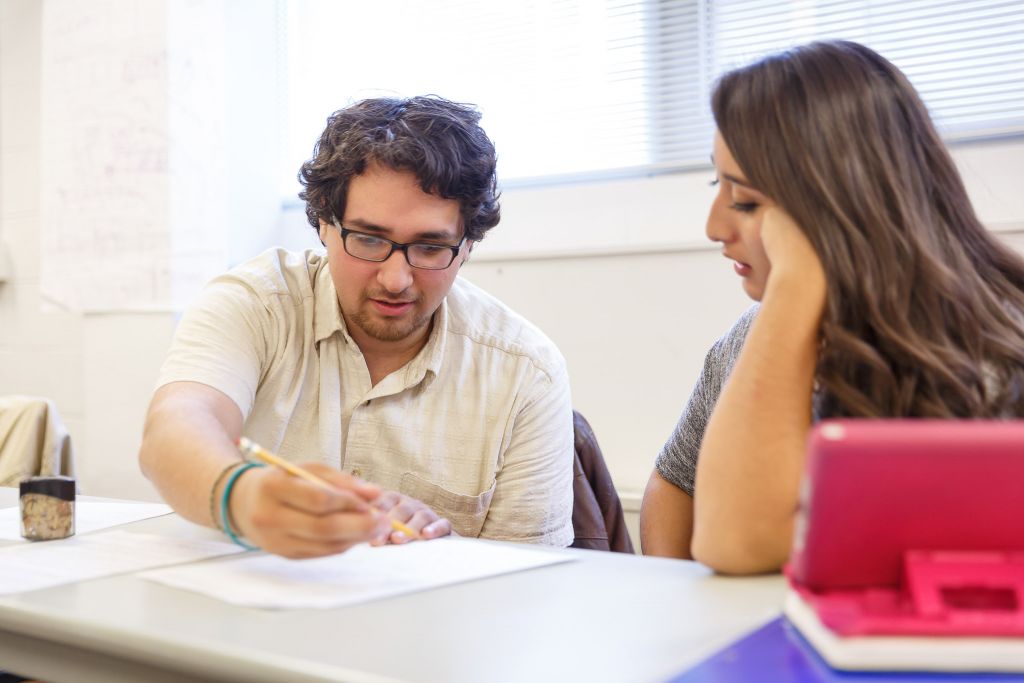 Brenneman cites a wide range of statistics to support his viewpoint.
Latinos comprise 6.4 percent of Indiana's population, 14.1 percent of the population in Elkhart County and 28 percent of Goshen's population, according to the U.S. Census Bureau. If not for the increase in Latinos, Elkhart County's population would have been relatively flat from 2000 to 2010, which would have hampered manufacturing job growth.
The percentage of local Latinos has continued to grow since 2010 as evidenced by the fact Latinos now make up the majority – 50.1 percent – of students enrolled in Goshen Community Schools as well as 31 percent of students in both the Concord and Elkhart public schools, according to the Indiana Department of Education.
Although an increasing number of Latinos are pursuing higher education, only about 5 percent of students enrolled in Indiana colleges and universities in 2012-2013 (the latest available state figure) were Latino. That same year, only 3.7 percent of the undergraduate degrees conferred in Indiana went to Latinos, according to state officials.
However, Goshen College has had a far better record recruiting, retaining and graduating Latinos, Brenneman said.
Among traditional undergraduate students at Goshen College, the percentage of Latinos has increased from 4 percent in 2005-2006 to 15 percent in 2014-2015. Final enrollment numbers for the upcoming academic year won't be confirmed until September, but preliminary figures indicate that Latinos are expected to make up 28 to 30 percent of the fall 2015 incoming first-year class, compared with 18 percent last year.
Along with strong recruitment, Goshen College has developed a variety of special programs that have boosted Latino retention and graduation rates, Brenneman said.
The five-year average of retention (fall to fall) for Latino students in the most recent reporting period was 77 percent, compared with 79 percent for students overall. And Goshen's five-year average of graduating Latino students within six years, in the most recent reporting period, was 69 percent, compared with 70 percent overall.
Rebecca Espinoza Kubacki, who has consulted with several Indiana colleges and universities in Latino student recruitment efforts, said Goshen College is a statewide leader in attracting, keeping and graduating Latinos.
"You're getting and retaining students because they (Latinos) feel like they belong here, they're welcomed here, you're helping them graduate and understanding what their culture is like," Kubacki said. "Big colleges haven't figured that out. They keep thinking getting Latinos there is their big job and they do that, but they don't keep them and that's a real struggle … So you guys are just way ahead of the curve."
Kubacki, whose parents came to Indiana as migrant workers in the 1950s, is focused on boosting Latino student achievement and helping Goshen College raise funds for scholarships. Those efforts became her passion after she was defeated for re-election to the House in the 2014 Republican primary, Kubacki believes, because she supported in-state college tuition for the children of undocumented immigrants.
"I didn't go to college. I was one of seven kids in the family and there just wasn't the money and there weren't all the programs that there are available to Hispanics as there are now," Kubacki said. "I would have loved to have done that, but I didn't so you do the next thing, which is helping somebody else do it."
Still, that doesn't mean Kubacki has any tolerance for Latino students who blame financial or cultural difficulties for not pursuing a college degree.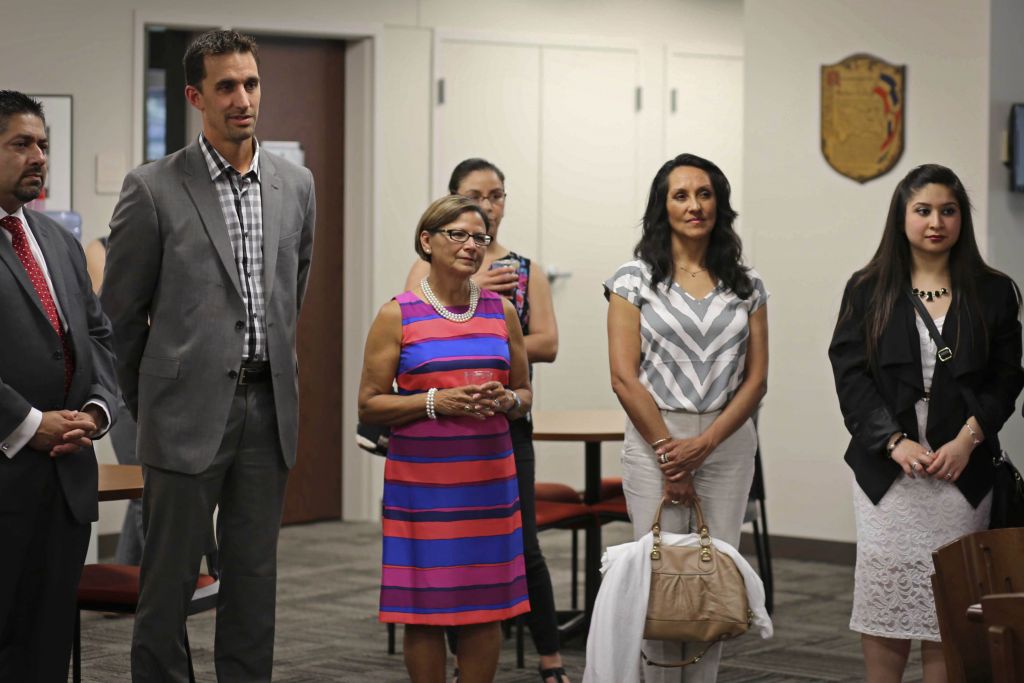 "When I hear kids that say, 'I don't have the money to go to college' or 'I don't have this,' I say, 'Stop with the excuses. If you really want to do it, you can do it.' It's never going to be easy; there's always going to be a roadblock," she said.
"My mom would always say, 'You can either be a failure or you can be a success.' We all start out at a certain level in our life and it's up to you whether you want to become better or not."
Kubacki said she wants Latino students to know that if they are willing to work hard and graduate from college, good jobs will be available afterward
"I get all these people all the time calling and saying, 'We'd like to hire some Hispanics for corporate jobs. These are high-paying jobs and I say to them, 'I'd give you them if I could get them into college.' So that is the absolute first step because we've got to get them into college," she said. "That's really my message to all these kids – for goodness sakes, you can do it!"
In the coming weeks, Kubacki said she plans to speak to local business and civic groups and seek their support for the Latino Scholarship Dinner. She said she will try to persuade leaders that it's in their self-interest to help Latinos graduate from college.
"The whole community will benefit from it; it's not just the college. Here you've got 50 percent of your student population in the (Goshen) schools being Latino and you educate that 50 percent; can you imagine what that does to your community?
"Latinos are not going to leave; we stay close to our families, we stay in our communities. And so you're going to get a group of people that are educated and they're going to be your community. And any community that has an educated population is just going to surface to the top because of education.
"And do you want the 50 percent that are here on welfare or do you want the 50 percent who are here to be educated? To me it's that simple," Kubacki said. "And that's our biggest issue – an educated work force, even in manufacturing."
Kubacki said helping more Latinos realize their dreams of graduating from college and going on to successful careers also will have a symbolic value to Elkhart County.
"We used to talk about the American Dream all the time. I never hear that anymore. In fact, no one is inspiring us to dream big," Kubacki said. "We need to bring that back and say 'Goshen College has not given up on that dream.' If anything, we are the ones who see the potential for those dreams because so many of these kids have those dreams and we're going to make sure that the American Dream doesn't die."
– By Richard R. Aguirre, director of corporate and foundation relations