'Menno's Best' coffee supports Mennonite youth groups, organizations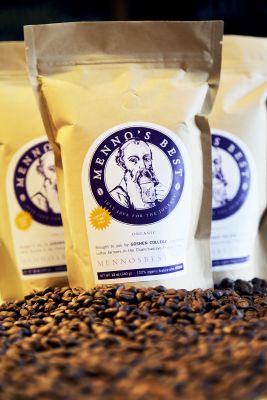 Menno's Best coffee created a buzz in its first year, raising a total of $26,695 for Mennonite youth groups attending the 2015 Mennonite convention in Kansas City through sales of organic, direct-trade coffee.
In the seven months that Menno's Best coffee was available, 5,331 bags were sold on behalf of 89 church youth groups.
Youth groups sold bags of the direct-trade Peruvian coffee, known as "just java for the journey," which was grown by small-scale farmers that Goshen College students have worked with during the college's Study-Service Term (SST) in Peru's mountainous Chanchamayo Province.
The coffee beans were harvested and shipped directly to Goshen, Indiana, where they were roasted locally by Refinery Cafe and shipped from the college's student-run coffee shop, Java Junction.
As an incentive for churches, a contest was created to award prizes to the top-selling youth groups. Coffee Bags were personalized with a "blend" label specific to each church and the youth groups with the highest sales won Goshen College shirts and a pizza party for their group in Kansas City.
The two top selling youth groups were College Mennonite Church in Goshen, and Hesston (Kansas) Mennonite Church, both of which sold about 500 bags.
"It was an easy fundraiser for us, being so close to the college," said Daniel Yoder, youth pastor at College Mennonite Church in Goshen. "Our church has connections in Peru through the college, so it was a no-brainer. Our students were able to see that this was a much bigger thing than just us."
Belmont Mennonite Church in Elkhart, Indiana; Ridgeway Mennonite Church in Harrisonburg, Virginia; and Assembly Mennonite Church in Goshen rounded out the five top-selling youth groups.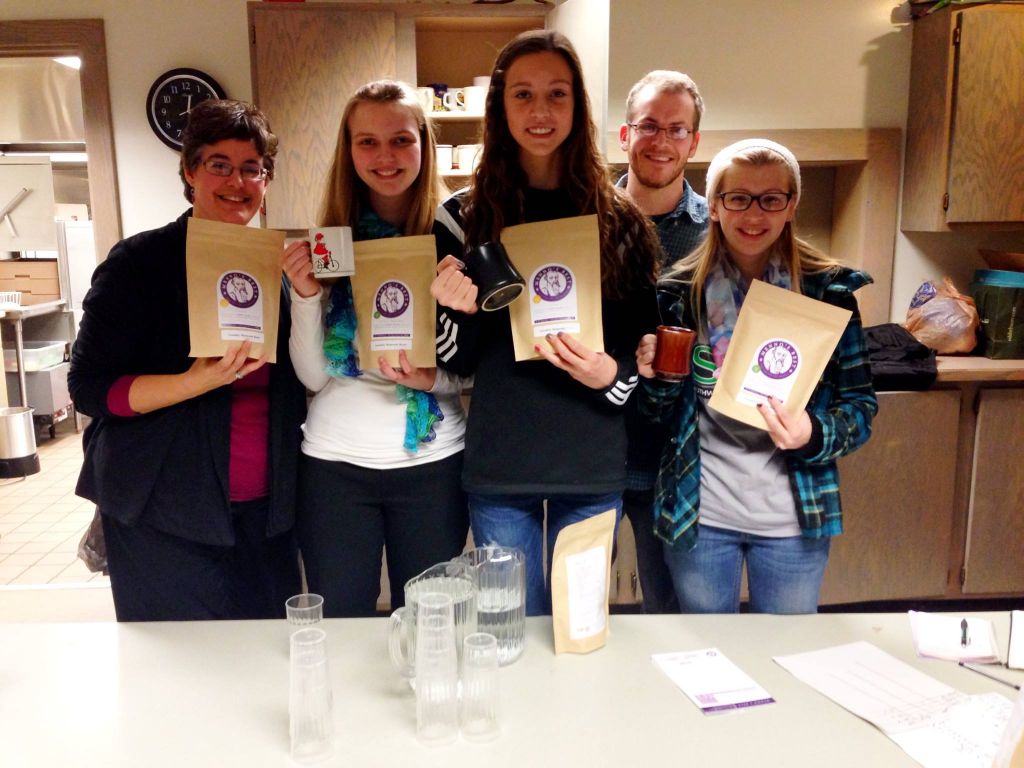 Buyers could purchase the 12-ounce bags of either ground or whole bean coffee directly from youth groups at church or online. Online buyers could designate a Mennonite church to receive the funds from each bag.
"This was a neat and innovative fundraiser. People in our congregation seemed to like the idea and were happy to support both the youth group and the farmers that produce the coffee," said Clayton Gladish, a pastor at Hesston Mennonite Church. "We were able to raise about one-fifth of our total convention cost with this fundraiser.
Five dollars from each $12 bag went directly to youth groups. Fifty cents from each bag also went to both Mennonite Central Committee (MCC) and Mennonite Mission Network (MMN). The rest of the funds covered the costs of fair prices for the coffee beans, shipping, roasting and packaging.
"We're delighted to be involved in a creative partnership like this one that helps youth deepen their understanding of the church and helps meet the needs of people around the world at the same time," said J Ron Byler, executive director of MCC U.S.
Both MCC and MNN are using the funds specifically for coffee-related projects. MCC supports Tumaini Brooks Center, a church-founded day school that addresses common risks for the more than 600 children of migrant workers who work on nearby coffee plantations in Kiambu, Kenya. MNN supports Top of the World Coffee in Kathmandu, Nepal, as they help make peace by brewing world-class, organically grown coffee.
"We were thrilled when Goshen College asked us to be part of this creative fund raising effort and we were a bit surprised and very grateful when the check for $2,670 arrive," said Danielle Klotz, development associate at Mennonite Mission Network. "It is great to be a part of something that touches lives in so many ways."
Menno's Best by the numbers
5,331 bags were sold
$26,740 raised for Mennonite youth groups
$5,331 was raised for Mennonite Central Committee and Mennonite Mission Network
89 Youth groups benefitted from Menno's Best sales
55 Youth groups signed up for the competition
1,740 Peruvian families contributing to and benefiting from Highlands Coffee