Anita Stalter, academic dean, to retire after 28 years of service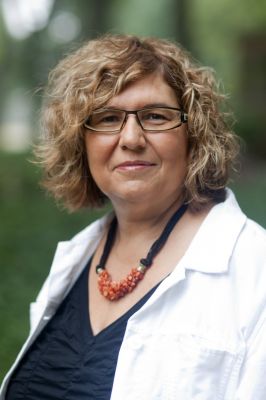 Anita Stalter, academic dean at Goshen College since 2001, is retiring after 28 years at GC. Prior to becoming dean, Stalter spent 14 years as a professor in the education department and director of teacher education at the college.
Stalter earned her undergraduate degree in early childhood education from Eastern Mennonite University (EMU), her master of education degree in early childhood education from James Madison University in Virginia and her doctorate in curriculum, teaching and educational policy from Michigan State University. She did all of this while raising her two children, Rachel and Jay, who are now adults. Stalter also opened a developmental preschool in Harrisonburg that is still operating today. For Stalter, attaining her doctoral degree consisted of weekly or bi-weekly trips to East Lansing as well as taking intensive summer courses.
"What I learned in my education classes so often also applied to parenting, so theory and practice came together in many ways," Stalter said.
During her time at GC, Stalter participated in facilitating the launch for Goshen College's graduate programs – nursing, environmental education, intercultural leadership and a master of business administration; helping to write and implement the $12 million Lilly grant that provided the college with the resources to develop the Center for Intercultural and International Education, which led to the college pushing to become a Hispanic Serving Institution (HSI); and teaching and advising students while she served as a faculty member in the education department.
Stalter was hired by the college in 1987 to teach in the education department and half time at Oaklawn Psychiatric Center to direct the schooling process for in-patient children and adolescents. Two years later, Stalter began teaching full time at the college.
"I never really thought about administrative leadership until I became the education department chair at Goshen College," Stalter said.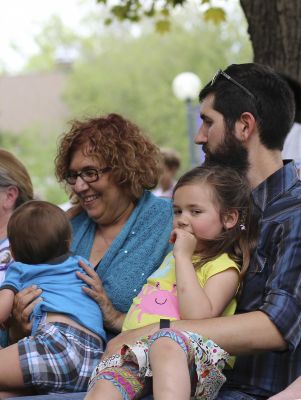 On top of her academic and administrative leadership, Stalter is a published author and has given numerous presentations in areas of teacher education, multicultural classrooms, academic assessment and faith development in children and adolescents.
Stalter, along with her daughter, Rachel J. Lapp Whitt, make up a mother-daughter research and writing team whose book "More than Petticoats: Remarkable Indiana Women," came off the press in 2007. "More than Petticoats" reveals the lives of 12 Indiana women from the Quaker crusader, Rhoda Coffin, to the portrait painter, Marie Goth.
The duo developed a proposal after hearing a speaker talk about a book she worked on in a series of books about notable women in specific states. The pair decided to take on the challenge when the speaker mentioned that the state of Indiana still needed a writer. This seemed like a perfect opportunity because the pair had been talking about writing books together.
"We worked together on researching which women to focus on and then digging into the stories of the ones we chose for the book," said Stalter. "We had a wonderful time learning the stories of these women…stories that are truly remarkable!"
Stalter said one of her highlights from her time at the college was, "my faculty and administrative colleagues—their commitment to the mission of Goshen College, their hard work and their collaborative spirit."
In an April interview with the Goshen College Record, GC President Jim Brenneman said, "It's been an honor to serve alongside Anita. Her many years of service at Goshen College as a professor, department chair and academic dean have provided the lived wisdom, good counsel and balanced continuity that will be truly missed," said Brenneman. "Her listening ear, tenacious spirit, compassionate leadership and sense of humor have been a blessing to me, the President's Council, indeed, to the whole college."
In both profound gratitude and preparation to say goodbye, the college has come up with a variety of ways to recognize Stalter and her service. At the college's 117th Commencement in April, Stalter was recognized for her long-time commitment to GC. The honor carries extra weight, as Stalter is the second-longest serving academic dean in the college's history, as well as the college's first female academic dean. Additionally, President Brenneman declared Friday, May 8, 2015 to be Anita Stalter Day.
Stalter's post-retirement plans include taking time to think about where to put her energy in her next phase of life. Rachel, her daughter, is a writer and graphic designer in Bloomington, Illinois, and her son, Jay, who plays with a band called the Steel Wheels and resides in Ann Arbor, Michigan. She plans to spend more time with them and her three grandchildren.
by Dominique Chew '15