From the Maple City to Microsoft: Raj Biyani '92 to speak at 117th commencement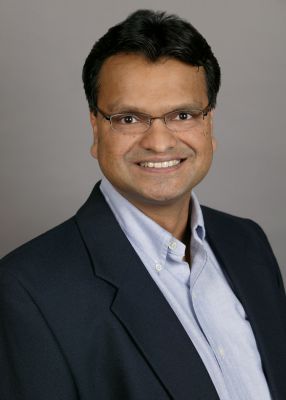 Raj Biyani, managing director for Microsoft IT India and a 1992 Goshen College graduate, will be the speaker at Goshen College's 117th commencement ceremony on Sunday, April 26 at 3 p.m. in the Roman Gingerich Recreation-Fitness Center. His speech is titled "From the Maple City to Cyberabad: What I wish I had known at graduation."
---
See the graduation webpage for a full schedule of events and other helpful information about Commencement Weekend.
---
Biyani is managing director for Microsoft IT India, Hyderabad, Microsoft's largest IT operation outside its corporate headquarters in Redmond, Washington. The transformation of the Microsoft India organization into a talent magnet has been featured in case studies at the Harvard Business School, Indian Institute of Management Calcutta and Singapore Management University.
Prior to relocating to India in 2011, Biyani worked in engineering teams across several Microsoft product groups in Redmond. Biyani has been awarded several U.S. patents and one EU patent, and has established himself as a thought leader by authoring or co-authoring 10 "Think Week" papers for Bill Gates.
Biyani is the coauthor of "To the Cloud: Cloud-Powering an Enterprise – A CIO's Essential Guide" (McGraw-Hill 2012). Biyani was on point for Microsoft's partnership with James Cameron on the making of "Avatar," which established Microsoft as a critical data management partner for the movie. In 2014, Biyani coproduced a documentary, "Inventing the Zero, Reaching for Infinity: The Story of India and its IT industry," that was telecast on CNBC in India.
Biyani was born in India and moved to the United States to attend college. Biyani holds a bachelor's degree from Goshen College, where he studied computer science and accounting. He has an MBA with honors from the University of Chicago.
An avid practitioner of cutting-edge business thinking, Biyani established the "Giving Something Back" award in 2003, a scholarship awarded to a Goshen College international student who has made outstanding contributions to campus life.
He resides with his wife and two children in Hyderabad, India, and divides his time between his Redmond and Hyderabad offices.
This year there are 217 undergraduates and 16 master's degree candidates scheduled to receive diplomas at commencement.
Schedule of Goshen College's 117th Commencement Weekend activities:
Saturday, April 25
1:30 p.m. – Nurses' Pinning Ceremony, Church-Chapel
2-5 p.m. – Department receptions – graduates and families meet informally with professors (exact times and locations to be announced by departments)
7:30 p.m. – Senior Class Program, Music Center's Sauder Concert Hall

8:45 p.m. – President's Reception for graduates and families, Music Center lobby
Sunday, April 26
11 a.m. – Baccalaureate service, with address by President James E. Brenneman, Church-Chapel
3 p.m. – 117th Annual Commencement Ceremony, with address by Raj Biyani, Roman Gingerich Recreation-Fitness Center (no tickets needed). Live web streaming will also be available for those unable to attend.