Connections carry GC Men's Chorus to the Big Easy for spring break tour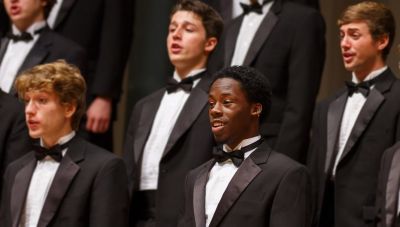 Like many students, Etienne Davis will head home for spring break.
Unlike most students, though, he'll have a 45-member choir along with him.
Davis, a first-year music major from New Orleans, sings tenor in the Goshen College Men's Chorus, which will spend their mid-term break performing in churches and schools in New Orleans during a weeklong tour Feb. 21-26.
"Having the GC Men's Chorus come to New Orleans with me is so exciting," Davis said. "I'm really looking forward to sharing as much of my culture with the others as I can."
The theme for the choir tour is "Ride on, King Jesus," which is taken from a set of three spirituals by beloved New Orleans composer and conductor Moses Hogan.
Davis's mother, Gladier Dalton, had the opportunity to sing with Hogan while on a tour a number of years ago, deepening the connection between the GC Men's Chorus and Hogan's pieces.
"I do not know a lot about her experience with Moses Hogan, but I do know that they were very close," Davis said. "She tells me almost all the time that she is so blessed to have met him and been a part of the incredible music he made."
College connection
Davis first heard about Goshen College while his family and church were working to recover from Hurricane Katrina in 2005.
"After Katrina, my uncle and my mother were looking for ways to rebuild our home church. Somehow my Uncle got in touch with some members of College Mennonite Church."
A group from College Mennonite Church in Goshen visited Davis' church in New Orleans to see what needed to be done. After learning about what Davis' family had been through, the group began working on a new project to rebuild Davis' mother's house.
Over the last decade, the College Mennonite Church group has partnered with Mennonite Disaster Service to continue the rebuilding process. Most recently, a group of Goshen College students travelled to New Orleans to help install flooring during their fall break.
When it came time to begin looking at colleges, Davis was encouraged to consider Goshen.
"The Mennonites asked me if I was interested in coming to Goshen College after high school," Davis said. "Though I was trying to find a school that had a great gymnastics program, I soon realized that Goshen was the better choice."
After applying, Davis received the Guth/Nofziger scholarship. Started by Ron and Caryl Guth of Pearl River, Louisiana, and Myrl (a 1964 graduate) and Phyllis Nofziger, of La Quinta, California, the scholarship gives priority students from the New Orleans area.
As a music major, Davis is finding himself at home within the college's music programs.
"I am so happy with the decision I made and I am looking forward to the rest of my experience with Goshen College," Davis said. "I also feel that everything this school offers is an opportunity to learn and grow. I honestly cannot live without music, and singing just brings me so much joy."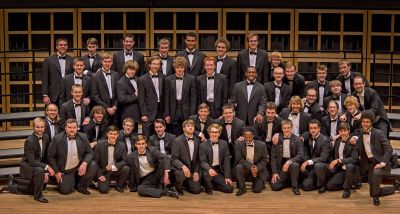 The Men's Chorus will make a stop in Indianapolis and Meridian, Mississippi, before landing in New Orleans for several days of performances at churches, schools and retirement homes. In addition to singing traditional spirituals and hymns, they will perform pieces by George Frideric Handel, Jacob Handl, Mikhail Ippolitov-Ivanov and Ludovico da Viadana.
"I hope we are able to bring hope and healing to all the audiences that we meet along the tour," said Scott Hochstetler, director of the Men's Chorus. "I also hope everyone gets a chance to learn and appreciate the people and culture of New Orleans and feel more connected to a city that has rebounded from devastation.
The Goshen College Men's Chorus, founded in 2004 and directed by Hochstetler, associate professor of music, follows in the long tradition of GC male singing groups beginning with the men's glee clubs and the Rambler Quartet of the early 1900s. Including music majors and non-music majors alike, the Men's Chorus performs music from all genres and time periods with special emphasis on sacred a cappella literature.
Members of the Goshen College Men's Chorus include Stefan Baumgartner (Goshen), Kenan Bitikofer (St. George, Kan.), Jim Bontrager (Goshen), Philip Bontrager (Goshen), Isaiah Breckbill (Kidron, Ohio), Joshua Bungart (Three Rivers, Mich.), Etienne Davis (New Orleans), Nat Dick (North Newton, Kan.), Gabriel Eisenbeis (Marion, S.D.), Martin Flowers (Nappanee, Ind.), Isaiah Friesen (Filley, Neb.), Kendall Friesen (Newton, Kan.), Ben Ganger (Goshen), Aaron Graber (Los Gatos, Calif.), Jacob Greaser (Goshen), Julian Harnish (Bluffton, Ohio), David Jantz (North Newton, Kan.), Mark Kreider (North Newton, Kan.), James Lang (Portland, Ore.), Andrew Leaman (Louisville, Ohio), Reuben Leatherman (Portland, Ore.), Caleb Liechty (Archbold, Ohio), Lane McDonald (Goshen), Reuben Ng (East Lansing, Mich.), Nate O'Leary (Seattle, Wash.), Andrew Pauls (Kinzers, Pa.), Peter Paetkau (Goshen), Austin Rieth (Goshen), Nick Schwartz (Phoenix, Ariz.), Blake Shetler (Goshen), Jake Smucker (Newton, Kan.), Sam Smucker (North Newton, Kan.), Kyle Stocksdale (Richmond, Ind.), Malcolm Stovall (Seattle, Wash.), Bobby Switzer (Berne, Ind.), Brody Thomas (Springs, Pa.), Wade Troyer (Goshen), Simon Weaver (Madison, Wis.), Ben Wiebe (Goshen), Matt Wimmer (Telford, Pa.), Peter Wise (Lititz, Pa.), Bryan Yoder (Manheim, Pa.), Seth Yoder (Quakertown, Pa.), Jacob Zehr (Carthage, N.Y.), and Paul Zehr (Carthage, N.Y.).
Goshen College Men's Chorus tour itinerary
Saturday, Feb. 21 at 7 p.m.
Shalom Mennonite Church
6100 E 32nd Street
Indianapolis, Indiana
Sunday, Feb. 22 at 6:30 p.m.
Jubilee Mennonite Church
812 28th Avenue
Meridian, Mississippi
Tuesday, Feb. 24 at 2 p.m.
Ferncrest Manor Nursing Home
14500 Hayne Boulevard
New Orleans, Louisiana
Tuesday, Feb. 24 at 6 p.m.
Trinity Episcopal Church
1329 Jackson Avenue
New Orleans, Louisiana
Wednesday, Feb. 25 at 8:45 a.m.
McDounough 35 Senior High School
1331 Kerlerec Street
New Orleans, Louisiana
Wednesday, Feb. 25 at 2 p.m.
Windsor Senior Living Community
1770 N Causeway Boulevard
Mandeville, Louisiana
Wednesday, Feb. 25 at 5 p.m.
St. Timothy on the Northshore United Methodist Church
335 Asbury Drive
Mandeville, Louisiana
Thursday, Feb. 26 at 10:45 a.m.
Holy Cross Catholic School
5601 Eylsian Fields Avenue
New Orleans, Louisiana
Sunday, March 1 at 7:30 p.m.
Sauder Concert Hall, Goshen College
1700 South Main Street
Goshen, Indiana