GC Men's Chorus releases 'Live' CD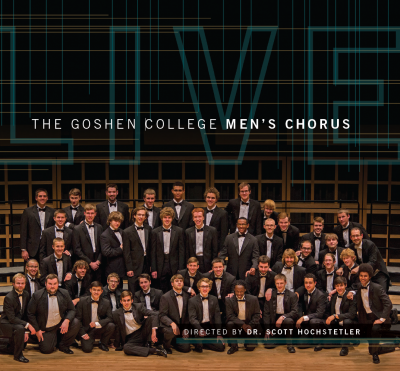 The Goshen College Men's Chorus has released a new CD of live recordings from the past five years, now available for purchase through the Goshen College Music Center main office.
The 13-track CD, titled "Live," includes spirituals, world music, newly composed works, a cappella motets, hymns and more, all recorded between 2010 and 2014. All tracks were recorded in the Goshen College Music Center's Sauder Concert Hall and Rieth Recital Hall.
Watch the Men's Chorus perform "Poor Man Lazarus."
Recordings are $10 (includes shipping) and can be purchased at the Music Center Main Office or by calling (574) 535-7361. VISA/Mastercard/Discover is accepted. 
The Goshen College Men's Chorus, founded in 2004 and directed by Scott Hochstetler, associate professor of music, follows in the long tradition of GC male singing groups beginning with the men's glee clubs and the Rambler Quartet of the early 1900s. Including music majors and non-music majors alike, the Men's Chorus performs music from all genres and time periods with special emphasis on sacred a cappella literature.
Hochstetler is associate professor of music at Goshen College, where he teaches in the choral, vocal and opera theater programs. Under his direction, the Goshen College Men's Chorus performed to acclaim at the ACDA regional convention in March 2012.