Student earns entrepreneurship grant with innovative hair accessory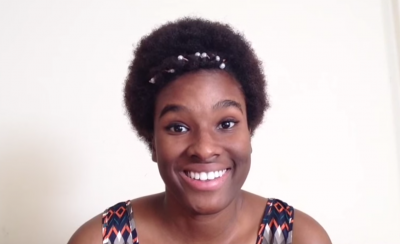 This article originally appeared in The Record, Goshen College's student newspaper
This past December, Melia Watkins, a sophomore marketing major from Cincinnati, Ohio, won an entrepreneur scholarship through a competition offered at Goshen College.
Watkins developed a product called Araliya Beaded Cord, which consists of leather strands decorated with beads that is braided into the hair and secured with a bobby pin.
"My idea was to create a hair accessory that would be better suited to accessorize braids instead of ribbons that don't attach or bobby pins that aren't secure," Watkins said. "I came up with the idea when I was on an Etsy forum and I just asked, 'What do people do with their hair?' and people said, 'I braid leather into my hair.' So I thought, why not add something to it like beads?"
Watkins heard about the competition through a class offered at GC called Venture Planning. During this class, students learn about starting a new business and how to create their own business plan. At the end of the semester, students have the opportunity to present their business plan to a group of professors and ask for a certain amount of money to really jump-start their business.
Michelle Horning, professor of accounting at GC, was one of the professors who helped determine who would receive scholarship money.
"What we look for is whether the student has convinced us that they're passionate about their idea and if we feel like they're realistic about what the challenges are going to be," Horning said. "We also look at if the student has already been doing something related because we can see that they were interested enough to sort of get started on their own."
That's exactly what Watkins did.
"She convinced us that she was passionate about her idea," said Horning. "Her presentation was very easy to understand, stating 'Here's what I make and here's how I'll sell it.'"
Last fall, Watkins put up posters around campus and in businesses throughout the community. She even had her product sold at Gift of Gab, a local clothing store in downtown Goshen, and worn in the Jules Boutique Fashion Show in November. Her products are also available at Araliya.com.
"I have an ad up on bohobunny.com and the creator of the site will be wearing my product," said Watkins.
Through craft shows, handing out business cards and on etsy.com, Watkins has begun to see her product take off.
Watkins is confident that this experience will help her in the future.
"Knowing how to be versatile with different types of target markets and having that application before I graduate will be a huge advantage," she said.
Watkins will have another advantage as she moves through her business classes because "she will learn things that she can apply right away," said Horning. "She can actually use what she's learning in her own business."
Watkins would recommend this competition to all students at GC.
"No other time are you going to get money because you took a class," said Watkins. "There's too much going on once you get out of school, so take a risk and just do it, because why not?"
– By Maddie Birky