Goshen College to offer new film production major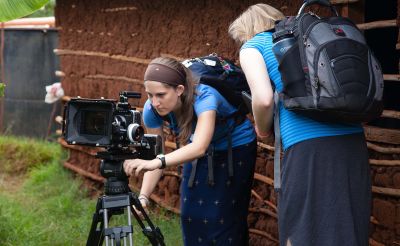 Next fall, Goshen College will offer a new film production major for students interested in studying film.
Previously, students interested in film could study general communications with an emphasis on film. The new major allows students to "get credit for what they've already been taking and show[s] that the courses they're taking are contributing to their actual major," said Seth Conley, associate professor of communication.
Although there aren't new courses being offered, the film department has flourished in the past five years. The addition of FiveCore Media as part of the curriculum brought about three new video production classes, each offered once every three years.
The idea for the major came to Conley and FiveCore Media General Manager Kyle Hufford, with the realization that the film department was quickly gaining traction. Their initial intent was to create a film studies major, but they found that a stronger emphasis on film production would prove itself more useful.
"We are very heavy on the creation of video in terms of production: shooting, editing and crafting of the story," said Conley. "We think that makes us unique because not a lot of places, especially in Indiana, have a film production major."
One of the key differences of this major is the requirement of more film production courses.
"What the film studies concentration had in it was a couple of key courses they could take and we would advise them to take those to be more trained in the field," said Conley. "There weren't a lot of film production courses that were specifically required."
The film production major will also require a theater class, as the theater and communication departments have worked well together in the past, said Conley. With this collaboration, film production students will gain a better understanding of the different skills required to be successful in the field.
"We believe that students will have more variety, more options with the new major," said Conley. "It gives us the opportunity for more students. It's a selling point for us to be able to say we do have a film production major."
Students interested in acting in films will be more likely to take on a theater major with an emphasis in film, while those that want to produce will study through the communication department. The film studies program in Los Angeles through the Council for Christian Colleges and Universities will still remain a vital part of the film production major.
– By Maddie Birky