Merling Trio to perform Hungarian music at Goshen College Jan. 11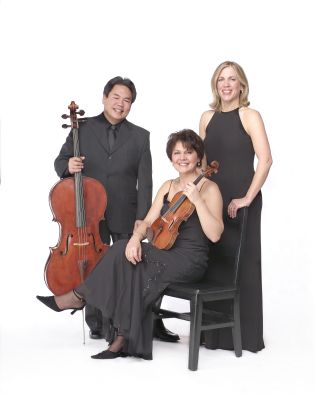 Concert: Rieth Chamber Series: The Merling Trio
Date and time: Sunday, Jan. 11, 4 p.m.
Location: Rieth Recital Hall
Cost: $10 general admission. Tickets available at the Goshen College Welcome Center: (574) 535-7566 or welcomecenter@goshen.edu.
The Merling Trio, an international ensemble in residence at the School of Music at Western Michigan University, will present a concert in the 2014-15 Rieth Chamber Series on Sunday, Jan. 11 at 4 p.m. in the Goshen College Music Center's Rieth Recital Hall.
The Merling Trio will bring a Hungarian flavor with pieces such as the "Hungarian Dances" by Brahms and the trio in F Minor by Dvorak.
A truly international trio, it brings together musicians from Polish, Japanese and Dutch backgrounds. The ensemble features Renata Artman Knific on violin, Bruce Uchimura on cello and Susan Wiersma Uchimura on piano.
The Merling Trio has been hailed as a brilliantly distinguished group endowed with remarkable gifts of communication, precision and an impeccable blend of sound. The trio made its New York debut in Weill Recital Hall at Carnegie Hall in 1993, and was named a finalist for the Naumburg Foundation Chamber Music Award in 1994. The trio has performed internationally and produced several critically acclaimed recordings.
General admission tickets are $10, available through the Goshen College Welcome Center at (574) 535-7566 or welcomecenter@goshen.edu. Tickets will also be sold as available at the door beginning one hour before the concert.
This concert is the third in this season's Rieth Chamber Series, committed to bringing high quality chamber and organ music to the Music Center's performance halls, and is made possible in part by donations of season subscribers.
Upcoming Rieth Chamber Series events include a performance by Spectral Quartet (Sunday, March 25) and organist Simon Thomas Jacobs (Sunday, April 19). More information about this series is available online at www.gcmusiccenter.org/concerts/riethseries.