Jane Fisher '80, botanical artist, exhibits work in London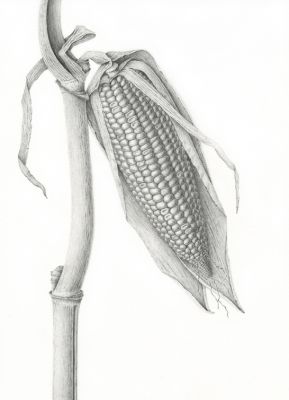 Jane Liechty Fisher '80 graduated from Goshen College with a degree in nursing. But after a successful nursing career, she became a botanical artist—a person who paints, sketches or otherwise illustrates plant life.
Fisher received a prestigious award at the Royal Horticultural Society (RHS) Botanical Art Show in London for her pencil drawings of field corn (above). She was among 27 botanical artists invited to exhibit work at the annual show in April.
Fisher, who lives in Saint Louis Park, Minnesota, is a member of the American Society of Botanical Artists. She has exhibited botanical art in Minnesota, Wisconsin, California, Massachusetts and Illinois.
"I have always appreciated art," she said. "Even though I never actually tried my hand at it until relatively recently, I feel like I had a very clear idea of how I wanted my work to look from the beginning."
Fisher first became interested in botanical art eight years ago after attending a botanical art exhibit in Minnesota. After taking some art classes, she became hooked on pencil drawing because of its convenience and simplicity.
In the last three years, Fisher has focused on drawing field corn.
"From an artistic standpoint, it was good for me to delve deeply into one subject," Fisher said. "I learned a whole lot about drawing from my many hours spent staring at ears of corn."
– Kate Yoder '15