Creating sustainable child abuse care in U.S. and abroad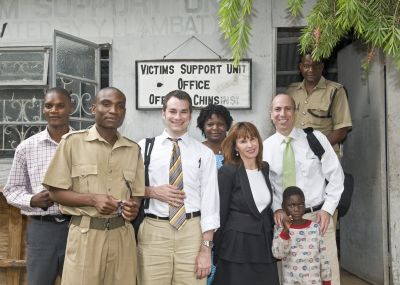 Dr. Aaron J. Miller '96 wants to put child abuse pediatricians out of a job. But there's a plot twist. He is one.
Miller is a board-certified general pediatric physician and a child abuse pediatrician who lives and works in the city of Compton, California. He splits his time between consulting for the L.A. County Department of Health Services and developing an international non-profit organization, BRANCH (Building Regional Alliances to Nurture Child Health, branchpartners.org), which works to develop medical, legal and social welfare systems to address child maltreatment in low-income countries.
In June 2013, Miller established BRANCH and formed a partnership with UNICEF, the Malawi government and additional funders to help set up 23 one-stop child abuse centers across Malawi.
One-stop child abuse centers are a relatively new model in developing countries. Instead of sending victims to the police, social workers, medical professions and magistrates separately, one-stop centers house all professionals in one building.
The motto at BRANCH is the same as Miller's personal life mission: to build regional alliances to nurture child health, to work to create safe, stable and nurturing relationships, and to empower community leaders in developing countries to achieve change.
"To be there for the children, to see them go from fear to hope," said Miller, "is exciting and incredibly gratifying."
– Liz Core '14