First-generation Goshen College student recognized for 'realizing the dream'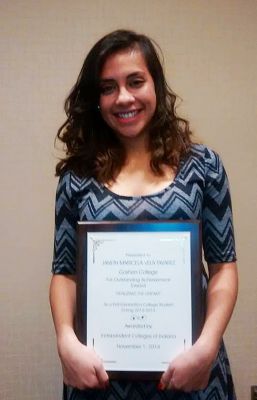 Janeth Vela knows what it takes to realize a dream. Vela, a Goshen College sophomore nursing major from Goshen, was among a group of first-generation students from Indiana's independent colleges and universities to be celebrated at the 25th annual "Realizing the Dream" banquet on Nov. 1 in Indianapolis.
Made possible by a grant from Lilly Endowment Inc. to the Independent Colleges of Indiana (ICI), the banquet recognized students from ICI campuses who are the first in their families to attend college, along with their inspirational teachers and families.
"Goshen College has helped me realize my dreams because it has made college affordable for me to further my education," said Vela. "The opportunities this college has presented to me, such as the Latino Leadership Program, have helped me become not just a college student but an active member in the community.
Vela and her fellow awardees each received a $2,000 scholarship to help with college costs, and each student's chosen "most influential" teacher/mentor received $1,000. Vela selected her fourth grade teacher, Barb Beachy-Yoder of Model Elementary School, whose energy and passion for life and teaching inspired Vela to go after her own dreams.
"The most rewarding part of the banquet was being able to honor my teacher and make my parents proud because they've been an important part of my journey throughout the years," said Vela. "I am so glad I had the chance to share this moment with them."
Goshen College faculty nominated Vela for her outstanding academic and extracurricular achievement in her first year. Vela is involved in several student clubs, is a member of the women's soccer team, participates in the college's Center for Intercultural and International Education (CIIE) leadership program, and mentors at a local elementary school. After college, she intends to work as a nurse with a specialty in pediatrics.
"Janeth is truly a student going after her dreams, not only for herself, but also for her family legacy," said DaVonne Kramer, diverse student program coordinator at Goshen College. "We are so proud of Janeth's success and example to others to keep their dreams alive and earnestly go after their passions."
– By Ariel Ropp