GC students' quick response helps save a life in Munich airport
On a class trip to study the Apostle Paul in Greece, an unexpected layover became a life-saving opportunity for GC students.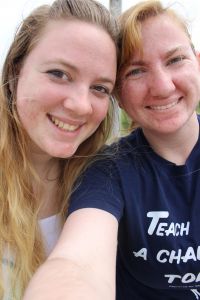 Somewhere in the world, there is a man who owes his life in part to Goshen College students.
Call it a coincidence, call it fate or call it divine intervention. Whatever you call it, GC students were fortunately in the right place at the right time.
On May 1, not long into the second leg of their flight to Thessaloniki, Greece, for a May Term class to study the Apostle Paul and the ancient church, a flight carrying 30 Goshen College students and faculty made an emergency landing due to a technical issue. The students and other passengers disembarked in Munich, Germany, and learned that a cracked windshield was responsible for their unplanned stopover.
Frustrated and jet-lagged, the group gathered in the terminal, gearing up for a long layover until the next available flight to Greece.
As the group settled in and looked for food and free Wi-Fi, a Goshen College student noticed that a man nearby had collapsed.
The man was sprawled in the middle of the terminal, his body lying across his shoulder bag. It appeared that he had not been breathing for a while.
"As he was motionless on the floor of the airport I could tell that he was in bad shape," said Seth Conley, assistant professor of communication and a co-leader of the class. "I saw that his face was beyond blue, it was deathly gray and still. One or two people stood and stared down at him but really didn't appear to know how to help."
"Another man who spoke only a little English tried to find a pulse in his neck and said to me, 'it's done,' then he walked on," Conley added.
But it wasn't done. Panicked, Conley ran around the corner to a group of Goshen College students who had just sat down to eat lunch, asking if they knew CPR. Molly Malone and Julianna Tennefoss, both education majors who had recently completed CPR training, jumped up to help.
"They appeared fearless," Conley said.
Malone, a 2014 graduate from South Bend, Indiana, and Tennefoss, a senior from Greenwood, Delaware, ran around the corner and to the spot where the man lay lifeless.
"It was like my body automatically kicked into gear," Tennefoss said. "I felt a sense of urgency, but in the moment, also a sense of calm. When we reached the man, I remember looking into his face and feeling my heart sink."
Malone began compressions and Tennefoss called for an AED machine. As luck would have it, a third student, Brett Conrad, had noticed one in the airport earlier and sprinted to grab it.
"While I was getting food, I saw the AED machine and thought, 'those seem handy, we should have more of them.' It was a really lucky thought," said Conrad, a senior from Lakewood, Colorado.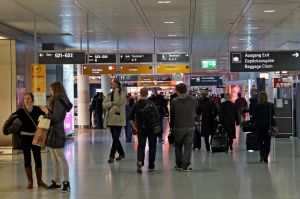 The three, accompanied by an airline worker at this point, continued compressions and attached the AED shock pads to the man's body. The machine required 30 seconds to get an accurate read on his heart.
"It was the longest 30 seconds that I have ever experienced," Tennefoss said. "As we waited, I looked into his face for any response and I was drawn in by the blank look in his eyes. Suddenly, life seemed so fragile that all I wanted to do was get on the plane, go home and hug everyone that I loved."
The AED machine did not receive any response from his heart, so they delivered a shock. The man coughed and took three quivering breaths, then fell silent again. The students continued performing CPR.
"The next thing I remember was Brett pulling me back as the paramedics ran in to work, and then sitting back at the table where we were eating, listening to the paramedics work on the man," Malone said.
The paramedics took over chest compressions and worked feverishly to get the man's heart restarted. Eventually, they carted him down the terminal and to a hospital. The students were told that the man was alive and talking to paramedics when he was taken away, but never learned his identity.
"Nobody knew how long he had been down, I don't know how long we had been doing compressions before the paramedics came," Malone said. "Nobody knew a whole lot other than that man had been blue, lying on a floor, dead. It still feels completely unreal."
As the group went back to waiting for a flight, Conley couldn't help but wonder if there was a reason the group ended up in Munich.
"Did God allow us to be diverted to give this man a chance at life? Did God allow our Goshen College education majors trained in CPR to be there at that place and that exact moment for that purpose?"
– Brian Yoder Schlabach