Goshen College seeks applicants for M.A. in intercultural leadership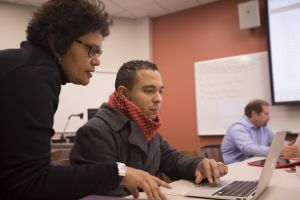 Goshen College's Master of Arts in Intercultural Leadership (MAIL) program will enter its second year when classes begin on June 23. Openings are currently available for this 18-month program geared for working adults.
This master's degree is designed for mid-career working professionals—like business managers, educators, health-care professionals and nonprofit leaders—who want to fully engage the multiple cultural contexts in which modern workplaces operate.
"This program is a natural extension of GC's longstanding expertise in the areas of intercultural and international education," said Anita Stalter, academic dean and vice president for academic affairs. "The curriculum is designed to meet the demand for leaders with the knowledge, skills and capacity to lead increasingly diverse organizations."
The program is intended for students who are at least 25 years old, currently working and in possession of a bachelor's degree. Application and enrollment fees are currently waived, and generous financial aid is available.
Designed to fit into a busy schedule, the program consists of three six-day residential sessions on campus as well as online coursework. The classes focus on developing strong skills in areas of management, public administration, organizational development, leadership and intercultural communications, in addition to encouraging a deep appreciation for diversity.
"This is a very practical, very focused professional degree program," said Dr. Ross Peterson-Veatch, associate vice-president for academic affairs, who is co-director of the program along with Dr. Rebecca Hernandez, associate dean of intercultural development and educational partnerships. "We have several students whose companies are helping pay for the costs of the program, and they're helping take learning back into their organizations immediately."
One third of the course hours take place in the workplace, where students carry out their capstone projects. Students select a practical issue related to their work life, implement a solution and examine the results.
For more information about Goshen College's Master of Arts in Intercultural Leadership program, visit www.goshen.edu/adult/mail/.
–  By Kate Yoder