May term courses a ticket to study abroad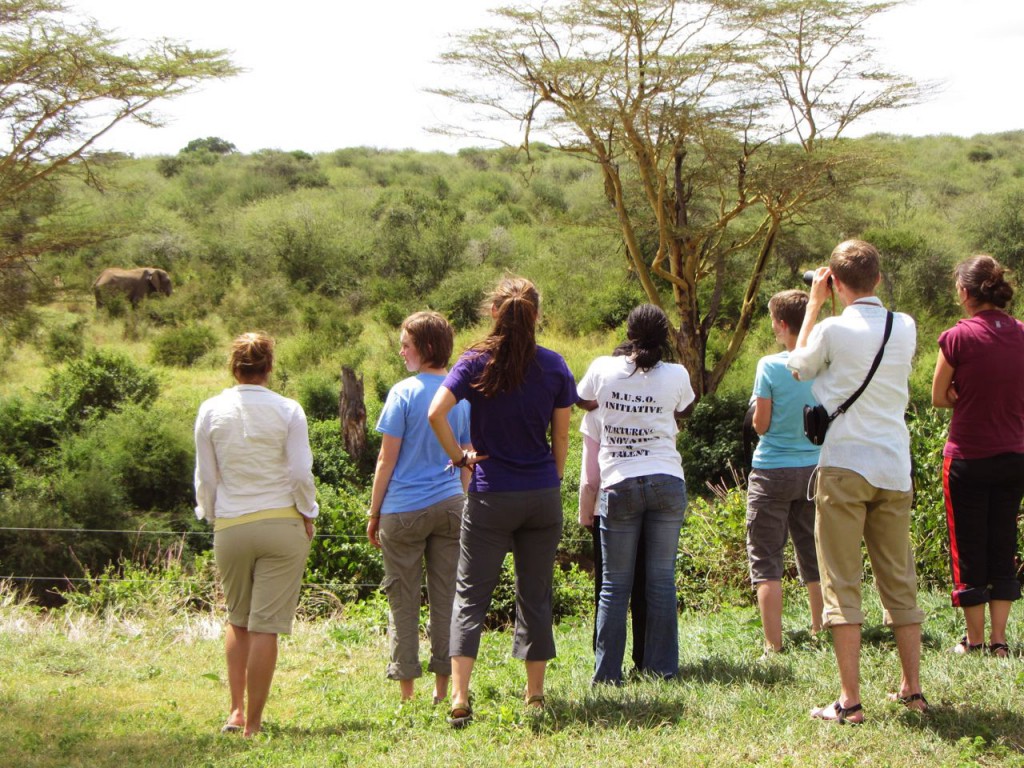 This May, campus might be a bit quieter than usual as nearly 100 Goshen College students travel abroad during the college's unique three-week May term.
Six international courses will take students across the globe to Nepal, Kenya, Greece, Italy, China, Spain and Morocco – and that doesn't even include the summer Study-Service Term (SST) units in Peru, Senegal and Nicaragua that begin in May. Many of these classes are interdisciplinary and open to all students regardless of year or major.
"May Term gives students who are not able to go on SST the opportunity to go abroad and have a cross-cultural experience," said Tom Meyers, director of international education. "Even for students who have already gone on SST, this is a chance to experience yet another culture. It's a wonderful window into a larger world."
New courses this year include a nursing class in Nepal, a business class in China and a film and public relations class in Kenya.
The Healthcare in Nepal course will give 11 nursing students the chance to work in a hospital alongside Nepali nursing students from the Tansen School of Nursing in the hills of Western Nepal. Gail Weybright, associate professor of nursing, and Beth Beels, a 1975 GC nursing graduate, will lead the course.
"We're excited to see our students develop cross-cultural relationships with the Nepali students and apply their clinical skills in a very different setting," said Weybright. "We believe it will be a mutually beneficial experience for all the students involved."
At the same time, students in the Business in China course will travel to six cities in China to learn about the country's rapidly developing economy. Students will have the opportunity to stay with host families and learn about every sector of the economy through field trips and university lectures.
"I see many connections between Elkhart County and China's manufacturing sectors," said Michelle Horning, professor of accounting and course leader. "This class offers a trip to a country the students are unlikely to go to on their own, but it's a place they will hear about a lot in the business world. You can't look at the global economy without looking at China."
Meanwhile in Kenya, film students will create two documentaries while visiting agricultural sustainability projects in and around the capital city of Nairobi.
"This course is taking what the students have learned in class and putting it into practice," said Kyle Hufford, manager of the college's FiveCore Media production company and a professor of the course.
While film students are creating documentaries, public relations majors like Natasha Weisenbeck will be collecting and sharing stories alongside the Foods Resource Bank in Kenya's Ndeiya region. This class will be Weisenbeck's first time traveling out of the United States.
"May term classes like Communications in Kenya allow me to have similar experiences as my SST-experienced classmates, while also providing me an opportunity to hone my skills in public relations and learn how communities in other countries are approaching sustainability issues first-hand," said Weisenbeck, a senior from Clifton, Ill.
Other international courses offered this May include Kenya Research, a wildlife conservation course set in the savannas of Kenya; History in Spain and Morocco, a course that explores the historic link between Granada, Spain, and Rabat, Morocco; and The Journey of Paul in Greece and Rome, a course that traces the Apostle Paul's footsteps through the Mediterranean.
Goshen College typically offers two or three international May term classes in a given year, so six course offerings are "an anomaly," said Meyers. Though more students will be off-campus than usual, international May term courses have been a staple at Goshen College for over 40 years.
In addition to international courses, other off-campus May term opportunities include two marine biology courses in Florida as well as environmental education and ornithology courses at Merry Lea Environmental Learning Center in Wolf Lake, Ind.
This year's May term will begin on Wednesday, April 30 and end on Wednesday, May 21. To follow select course blogs, visit https://www.goshen.edu/blogs/.
 – Ariel Ropp
Related: