Merry Lea's NatureFest opens doors to the outdoors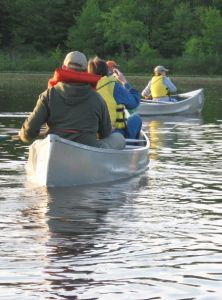 Event: NatureFest
Dates: Friday, May 9, 6:30 p.m., through Saturday, May 10, 3 p.m.
Location: Merry Lea Environmental Learning Center of Goshen College
Cost: Kids through college students: $5 any time all weekend, two meals included. Adults: $5 half day, no meals; $10 for Saturday includes lunch; $15 for Friday night through Saturday, includes breakfast and lunch. Register online by May 6, or call 260-799-5869 to register by phone.
NatureFest, an annual spring festival held at Merry Lea Environmental Learning Center of Goshen College in Wolf Lake, Ind., will take place Friday, May 9, 6:30 p.m. through Saturday, May 10, 3 p.m. NatureFest includes a 5-K run, hikes for all ages and interests, and booths with hands-on interactive nature activities. Camping overnight is an option. For a schedule, see merrylea.goshen.edu or call 260-799-5869.
NatureFest activities enable people to connect with nature in a wide variety of ways. For starters, families can join a frog hunt, take a wild edibles hike, make a birdhouse out of a gourd, learn about constellations and explore Merry Lea's trails. Many are particularly intrigued by the idea of wild edibles. Accustomed to getting food from grocery stores and medicine from pharmacies, guests are enchanted when Merry Lea staff member Paul Steury points out that cattails make good pancakes.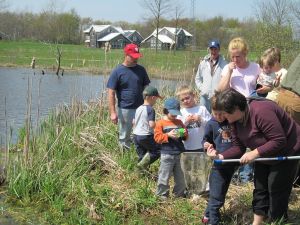 For adults, prospective college students and children, NatureFest offers a chance to meet environmental professionals and learn what they do. For example, Daraugh Deegan, who will staff the Indiana Fish booth, is an aquatic biologist with the City of Elkhart and will tell stories about the fish communities of local rivers. The leader of the insect hike has a Ph.D. in entomology and the leader of the off-trail hike has been Merry Lea's land manager for over 20 years. Graduate students who have nearly completed Merry Lea's Masters of Environmental Education program round out the staffing.
NatureFest also offers several longer, skill-based workshops for adults. Concerned about the water quality of a lake near your home? Sign up for an introduction to Indiana's Clean Lakes Program. You'll ride a pontoon boat on Merry Lea's High Lake and see the kinds of water monitoring that volunteers conduct on Indiana lakes. Want to take better nature photographs? Bring a digital camera and take a nature photography workshop. Need a relaxing hobby to de-stress? Learn to spin from someone who can take wool from the goat to the coat.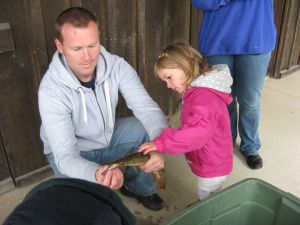 Buying and selling isn't a big part of NatureFest, but do plan on stocking up on native plants. Martha Ferguson of Riverview Nursery, Spencerville, Ind., specializes in natives with local genotypes. She will also lead an afternoon workshop on creating rain gardens with native plants.
For a schedule and activity descriptions, see merrylea.goshen.edu/. Pay at the door, but please register online by May 6, or call 260-799-5869. Kids through college students pay just $5, which includes Saturday breakfast and lunch. Adults pay $5 a half day (no meals), $10 Saturday or $15 both days.
Merry Lea was created with the assistance of the Nature Conservancy and the generosity of Lee A. and Mary Jane Rieth. The 1,189-acre nature preserve is located in central Noble County, midway between Fort Wayne and Goshen, south of Wolf Lake.