Unique MBA program will shape leaders for the common good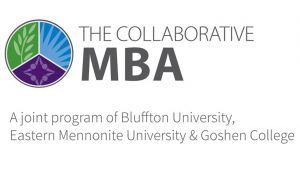 Business and organizational personnel who want to develop their leadership skills, enhance productivity and increase profits while contributing to the "common good" now have the chance to enroll in a one-of-a-kind Master of Business Administration (MBA) program.
Three institutions affiliated with the Mennonite Education Agency – Bluffton University in Ohio, Eastern Mennonite University in Virginia, and Goshen College – have joined forces to launch "The Collaborative MBA" to shape "transformative leaders."
"We're interested in developing authentic leaders who understand that personal, business, organizational and community existence and success are tied to the sustainability of local and global systems," said George Lehman, director of the graduate programs in business at Bluffton University.
The 36-hour program will focus on "skills in entrepreneurship, shared vision development, mutual accountability, financial integrity, continuous innovation, empowerment of people and teams and systems thinking," said Michelle Horning, chair of the business department at Goshen College.
The program director of The Collaborative MBA is Jim Smucker, formerly president of the Bird-in-Hand Corporation and board chair of the Lancaster (Pa.) Chamber of Commerce.
For Smucker, a unique aspect of the new program is addressing "leaders' needs for personal and spiritual growth. Almost all of the other MBA programs focus mainly on the usual topics of budgeting, strategic planning, marketing and such."
The Collaborative MBA will cover these topics too, said Smucker, who will also continue to be graduate dean at Eastern Mennonite University. In addition, however, "our program will have an explicit orientation toward the well-being of people, community and planet. We will situate making profits within the context of ethical practices and contribution to the common good."
Professors at the three partner schools possess a wide range of expertise, permitting Collaborative MBA students to choose among eight concentrations:
Leadership
Health Care Management
Accounting and Financial Management
Conflict Transformation
Sustainability
Intercultural Leadership
Self-designed
Students will move through the program in cohorts that begin with one week of residential courses at one of the three sponsoring schools and include a week of residency in an international setting, doing practice-based learning. In the other months, coursework will be partly synchronous – with distance learners joining students and professors via interactive video conferencing ­– and partly asynchronous, whereby students will pursue projects and interact with professors on a mutually convenient schedule.
While organizers expect to enroll a broad range of students from a variety of backgrounds, including international, Horning said "a key target student" is someone holding a full-time job in a small- to medium-sized business or organization, perhaps with family responsibilities, who needs to be able to pursue graduate studies in a flexible manner.
The curriculum is based on the concept of "leadership for the common good," which includes values of spirituality, community, leading as service, justice, sustainability and global citizenship.
"In keeping with our Anabaptist-Christian roots," said Lehman, "all of us involved in this program have a holistic view on how all of our decisions and actions affect other people, the community and the world."
Prospective students can enter the program through the doorway of any of the three sponsoring schools, Bluffton, EMU or Goshen.
For more information on The Collaborative MBA, visit collaborativemba.org.
– By Bonnie Price Lofton