Notre Dame organist to perform at Goshen College on Feb. 9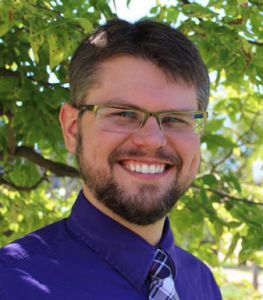 Concert: Rieth Chamber Series: Daniel Bayless, organ
Date and time: Sunday, Feb. 9, 4 p.m.
Location: Rieth Recital Hall
Cost: $10 general admission. Tickets available at the Goshen College Welcome Center: (574) 535-7566 or welcomecenter@goshen.edu. 
Daniel Bayless, organist at the University of Notre Dame's Basilica of the Sacred Heart, will present a concert on Goshen College's Taylor & Boody pipe organ on Sunday, Feb. 9 at 4 p.m. The concert, part of the 2013-14 Rieth Chamber Series, will take place in the Music Center's Rieth Recital Hall.
Bayless will perform organ works by Johann Ludwig Krebs, Robert Schumann, J.S. Bach, William Bolcom and Maurice Duruflé.
General admission tickets are $10, available through the Goshen College Welcome Center at (574) 535-7566 or welcomecenter@goshen.edu. Tickets will also be sold as available at the door beginning one hour before the concert.
Daniel Bayless directs the University of Notre Dame Women's Liturgical Choir and serves as an organist at the Basilica of the Sacred Heart. He is also the liturgist for St. Paul's Episcopal Church in Mishawaka, Ind. Previously, he held the position of director of music at St. Joseph Cathedral in Manchester, N.H. and diocesan musician for the Diocese of Manchester.
Holding degrees in organ performance from Notre Dame and the University of Kansas, Bayless has studied organ, harpsichord, carillon and choral conducting with esteemed teachers including Craig Cramer, David Dahl, Darlene Catello, Susan Marchant, Michael Bauer, Barbara J. Brown and Elizabeth Berghout.
This concert is the fourth in Goshen College's new Rieth Chamber Series, committed to bringing high quality chamber and organ music to the Music Center's performance halls, and is made possible in part by donations of this inaugural year's season subscribers.
Upcoming Rieth Chamber Series events include performances by early music ensemble Fleur de Lys (Sunday, April 13), and Spektral Quartet with bandeonist Julien Labro (Sunday, May 17). More information about this series is available online at gcmusiccenter.org/concerts/riethseries/.