Author, quilter to speak at Goshen College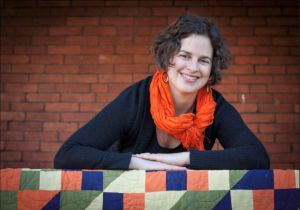 Public Lecture: Janneken Smucker, author of "Amish Quilts: Crafting an American Icon"
Date and Time: Tuesday, Jan. 14, 7 p.m.
Location: Goshen College Newcomer Center, room 17
Cost: Free and open to the public
Author, quiltmaker and Goshen College graduate Janneken Smucker will be on campus on Jan. 13 and 14 to speak about her new book, "Amish Quilts: Crafting an American Icon," which explores how Amish quilts evolved from practical bed linens to contemporary art. The book was included in the New York Times Holiday Gift Guide for 2013.
During a public lecture sponsored by the Mennonite Historical Society, Smucker will present a lecture titled "A Good Amish Quilt: Folded Like Money," which will take place on Tuesday, Jan. 14 at 7 p.m. in the Newcomer Building, room 17.
"Amish Quilts" includes more than 100 stunning color photographs. In the book, Smucker traces the history of Amish quilts from their use in the late 19th century to the lucrative business it has become today. Through her own observations, as well as oral histories, newspaper accounts and other archival sources, she seeks to understand how the term "Amish" became a style and what it means to both quiltmakers and consumers.
"Janneken Smucker is emerging as the leading historian and interpreter of Amish quilts," said John D. Roth, director of the Mennonite Historical Library and professor of history at Goshen College. "Her book provides a wonderful narrative of the history of Amish quilts and the women who made them, but it goes far beyond this to explore the broader cultural context, especially the way in which these functional bed covers were transformed into folk art and mass-produced collectibles. A gifted speaker and GC graduate, Janneken's presentations will show how quilts can serve as a lens for understanding larger transformations within recent American culture."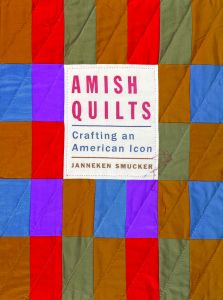 On Monday, Jan. 13, Smucker will be the featured speaker during the college's weekly convocation, which takes place from 10-10:40 a.m. in the Goshen College Church-Chapel. Her presentation is titled "Amish Quilts: America's First Abstract Art."
Smucker will also sign copies of her book at Better World Books in Goshen from noon to 2 p.m. on Saturday, Jan. 11. Better World Books is located at 215 S. Main St. in downtown Goshen.
"Amish Quilts: Crafting an American Icon" is available online, in the Goshen College bookstore and at Better World Books in Goshen.
Smucker graduated from Goshen College in 1998, and is currently an assistant professor of history at West Chester (Pa.) University. She is consulting curator for the International Quilt Study Center & Museum at the University of Nebraska-Lincoln. She is also coauthor of "Amish Abstractions: Quilts from the Collection of Faith and Stephen Brown" and "Amish Crib Quilts from the Midwest: The Sara Miller Collection."