Summit challenges students to create sustainable campuses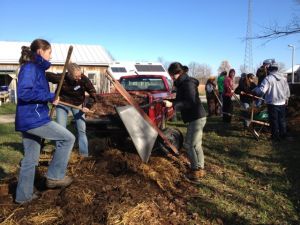 During a chilly November weekend, 45 student leaders from eight colleges and universities gathered for a sustainability summit at Goshen College's Merry Lea Environmental Learning Center.
The goal of the sustainability summit was to bring students from area institutions together to learn, network and brainstorm ways to make their home campuses more sustainable. This year's focus was on food.
"We discussed issues involving our current food systems and ways that we might work to improve these for ourselves and for our campuses," said Lisa Zinn, assistant professor of sustainability and environmental education at Goshen College and one of the conference organizers. "We hoped that all the participants would go home refreshed, inspired and equipped with concrete ideas about how to work toward sustainability on their own campuses."
The eight colleges and universities that were represented include Allegheny College (Meadville, Pa.), Andrews University (Berrien Springs, Mich.), Calvin College (Grand Rapids, Mich.), Goshen College, Indiana University – South Bend, Indiana Wesleyan University (Marion, Ind.), Sienna Heights University (Adrian, Mich.) and Taylor University (Upland, Ind.).
At the summit, students were given the opportunity to hear from students and faculty who had been working to implement more sustainable food systems on their campuses through projects like community gardening, composting and providing more local food in the dining halls. Students were able to hear the challenges, failures and successes that people faced in the process.
"We had a chance to talk about our aspirations for not just a better campus, but a better world," said Melanie Drinkwater, a Goshen College first-year biology major from West Sayville, N.Y. "We were expecting to hear how impossible our goals were, but instead heard the opposite."
"It was incredibly inspiring for everyone involved," Zinn said. "The students were so pleased to spend time talking with other students from other schools who share their passion for making their communities and campuses more sustainable. It filled me with hope to see these young people so dedicated to bringing positive change to their communities, their nation and the world."
Students also explored the connections between faith and sustainability. "Most of the colleges represented are Christian colleges, so addressing faith amidst their passion to live more sustainably on the earth was a very important piece," Zinn said.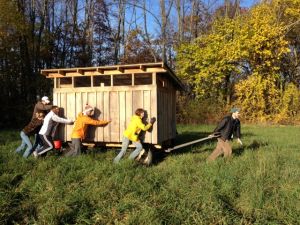 Additionally, students were given a chance to do some hands-on work at the Merry Lea sustainable farm, where they worked on building a compost pile, saving seeds, making soil blocks and moving chicken tractors. Students also visited local sustainable farms and learned about the challenges they face.
"We went on hikes and learned about composting and animal care. There were so many options for how to spend our time," Drinkwater said. "Merry Lea is a beautiful place, and it was great to spend time there and learn about the area and explore."
Participants worked together to create a statement of the transformative outcomes for the people on their campuses and agreed to work to find ways to move toward these goals. See the five transformative outcomes developed by participants at the Sustainability Summit.
"I was particularly interested in helping students see the value of working with others to educate their campuses and to think beyond their own individual actions to ways they can make change in the larger community," Zinn said. "I think that was successful and they came away feeling empowered to make real changes on a campus-wide scale."
Five transformative outcomes were developed during the 2013 Sustainability Summit at Merry Lea:
In four years, we want the people who are part of our campus communities to:
1. Have the resources and skills to prepare and eat food in ways that are healthy and sustainable.
2. Understand the need for limits, be satisfied with less and make a shift away from a consumption attitude toward food and other resources.
3. Experience growing food for themselves or the local community with their own hands.
4. Be aware and informed about food and food cycles, including where food comes from, how it is processed and prepared and what happens with the waste.
5. Better understand the relationship between faith, the creation and sustainability, including the injustices and brokenness in our current food systems both in our own communities and around the world.