Goshen's AlgaeTown project featured in Wired Magazine and Biofuels International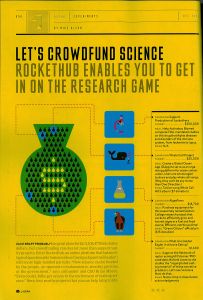 The AlgaeTown research project has garnered national and international attention this month from both Wired Magazine and Biofuels International.
AlgaeTown, a joint undertaking of Goshen College and Formco, Inc. of Elkhart, Ind., is a project with a mission to find an easy and efficient way to produce algae, which can be harvested on a mass scale for use in biofuels, pharmaceuticals and even food.
Wired included AlgaeTown in a feature called "let's crowdfund science" in their December 2013 issue. AlgaeTown was among four projects that Wired used in an infographic that featured the crowdfunding platform RocketHub, which Algaetown used for fundraising efforts.
The AlgaeTown entry reads, "Purchase equipment for this awesomely named Goshen College research project that works to efficiently grow and harvest algae as a fuel and food source. Efficient, nutritious slime!"
Biofuels International, a bimonthly publication that explores the biofuels industry, ran a two page article titled "Second exit to biofuels," which explores how Algaetown came to be, and the science behind it. It appears on pages 54-55 in the November/December 2013 issue.
Read "Second exit to biofuels"
The AlgaeTown project was conceptualized four years ago by Dave Slagel, a GC alum and the CEO of Formco Inc., and Stan Grove, professor emeritus of biology at Goshen College.
"We at AlgaeTown are pleased with our inclusion in both Wired and Biofuels International," Grove said. "We anticipate a greater public awareness of our efforts to perfect the Formco photobioreactor for production of microalgal biomass derived from a variety of different species."
Find out more at www.algaetown.org.