Experience Croatian food and culture during Nov. 19 Afternoon Sabbatical luncheon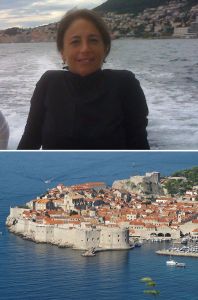 Afternoon Sabbatical: International luncheon, "My Croatian Journey: Encountering a Land of Beauty and Struggle" by Jane Ruth, Niche Touring
Date and time: Tuesday, Nov. 19, 2013, noon
Location: College Mennonite Church Fellowship Hall
Cost: $20. Call 574-535-7565 to register. $5 late fee after Nov. 8.
Experience stories, images and tastes of Croatia at the Afternoon Sabbatical international luncheon on Nov. 19, when Jane Ruth of Niche Travel will give a presentation titled "My Croatian Journey: Encountering a Land of Beauty and Struggle" at noon in the College Mennonite Church Fellowship Hall.
Ruth first traveled to Croatia, a country whose image was still stained by the recent horrors of war, with her husband and young children in 1999. They discovered a country of well-kept secrets:  sleepy, beautiful fishing villages, incredible local food and drink, and a people rich in stories. In her lecture, Ruth will share stories of this country, where ethnic tensions ride high against a backdrop of stunning landscapes and beautiful people.
Niche Touring is a boutique touring company that offers completely guided tours of Croatia for individual, small group, family and corporate travel. The company provides personalized service and arranges every aspect of the trip, including flights, hotels, ground transportation, private accommodations, local guides and diverse dining choices. Niche Tours is committed to respecting Croatian culture and promoting socially responsible travel to help preserve the local ways and avoid exploiting the people and their homeland.
"Since that first visit years ago, my love of this place and people has grown, and I've used my experience to create and lead tours," Ruth said. "It's a journey that has helped me see the world through different lenses, and I'm delighted to invite others to learn and explore Croatia as the land, people and unfolding narrative continue to draw me back."
The meal and program cost $20, with a $5 late fee for registering after Nov. 8. Call 574-535-7565 to register.
Afternoon Sabbatical programs are usually on the second Tuesday of the month at 1 p.m. in Sauder Concert Hall. For more information on the Afternoon Sabbatical series, call the Goshen College Welcome Center at (574) 535-7566.
Future programs in the 2013-14 Afternoon Sabbatical series include:
Tuesday, Dec. 10, 2013, 1 p.m., Goshen College Music Center's Sauder Concert Hall
"Music of the Season" by Goshen and Fairfield High School to choirs, directed by Marcia Yost and Ben Kambs
Free and open to the public
Saturday, Jan. 18, 2014, Chicago Auditorium Theater
Chicago bus trip: 25th anniversary production of "The Phantom of the Opera"
SOLD OUT
Tuesday, Feb. 11, 2014, 1, p.m., Goshen College Music Center's Sauder Concert Hall
"The Globe—from Goshen to Times Square" by Jason Samuel, WGCS station manager
Free and open to the public
–  By Lauren Stoltzfus