Visiting Artist Michiko Itatani donates large painting to Goshen College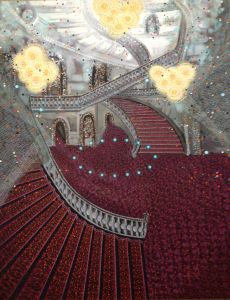 After her November 2012 exhibit in the Hershberger Art Gallery, Japanese artist Michiko Itatani donated one of her pieces to Goshen College. Her painting, worth $23,000, is now on display in the lobby of the Music Center.
Born in Japan, Itatani lives in Chicago and works as a professor at The School of the Art Institute of Chicago. Her work was featured as a part of the 2012 Eric Yake Kenagy Visiting Artist Lecture and Exhibit at the college.
After receiving positive feedback during her Goshen College exhibit and lecture, she felt her painting, "Cosmic Wanderlust," had found its home on the GC campus.
"Showing at Goshen College was one of my most memorable and pleasant experiences, mainly because of the people I met there," said Itatani. "Everybody was warm, kind and eager to look at my work."
"Cosmic Wanderlust" is a 96" X 78" oil painting that Itatani created in 2010 as part of a series based on the "human desire to reach out into the mental and physical space beyond our grasp, inward and outward." The piece features deep purple-red stairways spilling into a large room with a focal ring of Itatani's signature blue dots.
Itatani's process of art-making starts with gathering various fragments from experiences, events, documents, literature, history, science, myths and customs. These fragments are then cataloged and mutated to make images. It is an act of fusing research, observation, memory and imagination, Itatani said. Her exhibit features small-scale, beautifully painted views of baroque interiors with cosmic elements
"When you look at the work, you can see how meticulous her process is," said Merrill Krabill, professor of art. "It is rich in detail and rewards someone who takes the time to study it. With subject matter related to performance halls and ideas connecting life with aspects of being on stage, this is an especially appropriate artwork for the Music Center."
Itatani hopes the painting will connect with members of the campus community across generations. "I want to reach out to people, especially young people," Itatani said.
– By Lexi Kantz