Goshen College train underpass to get a splash of color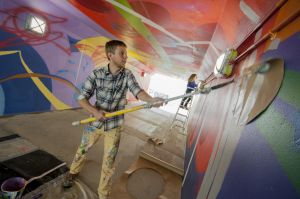 The gray concrete walls of the Goshen College train underpass will receive a colorful facelift this summer. A mural designed by 2010 alum Noah Yoder will be painted onto the walls and ceiling of the pedestrian underpass this week.
---
View a photo album of the transformation.
---
After the underpass was completed last fall, Goshen College's Student Senate proposed that the new tunnel have a mural painted in it. In February 2013, the Student Senate put out a call to student and alumni art majors and minors to submit proposals for the mural.
"The Student Senate wanted to bring the community together with this mural project in the hopes that a bright design on the tunnel walls would prove to be aesthetically pleasing while also discouraging vandalism," said Student Senate member Rachel Smucker.
After some deliberation, Yoder's abstract and colorful design was chosen and the decision was made to hire him to oversee the painting process.
"I think of the layered, interlacing nature of the design to be symbolic of diverse ideas and experiences interacting to create a whole, which I think exemplifies the transformative experience of being a student at GC, where students not only receive a liberal arts education, but have the opportunity to go on SST and experience cultures outside of their own," said Yoder.
(Video created on 7.5.13)
The hope is that the tunnel mural will grow to be appreciated by everyone as a community and artistic space.
"It's exciting to know that I'll be a part of something that will register in the memories of hundreds of students who pass through Goshen College. It's what any artist hopes will happen to their artwork and I feel blessed that it will happen for this mural," said Yoder.
Recently Smucker has contacted all of the Goshen School District art teachers, as well as some GC art students, about volunteering to help Yoder during the time that he will be working. The painting of the mural will begin on June 26 and be done around the first week of July.
The mural will cover the walls of the train underpass, which was constructed as a pedestrian underpass that allows for students, along with walkers and bikers using the Winona Trail, to access both sides of the college's campus even when a train is traveling or stopped on the tracks.
"I have great appreciation for the Student Senate taking the initiative to make this mural project possible," said Vice President of Student Life Bill Born. "This will be a great addition to campus."
– By Lexi Kantz