Fred Litwiller, director emeritus of student services, died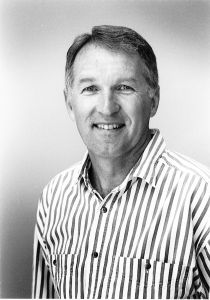 Goshen College Director Emeritus of Student Services Fred Litwiller, who served the college for more than 35 years as a teacher, coach and counselor, died on June 6 after an 11-year battle with multiple myeloma, shortly before his 73rd birthday.
Litwiller was born June 25, 1940, in Hopedale, Ill. He graduated from Miner High School in 1958, and from Goshen College in 1962 with a major in physical education and a minor in science. He played varsity basketball and led the Maple Leafs as captain during his junior and senior years. He earned his master's degree from Illinois State University in guidance and counseling. He spent four years as athletic director at Hesston (Kan.) College, where he coached many teams, taught and directed the intramural program.
In 1966, Litwiller was hired as director of student activities at Goshen College. During that time he also coached the men's basketball team and taught physical education classes. He led three Study-Service Term groups in Costa Rica in 1972-73.
After taking a three-year break to work as the director of personnel and safety for a construction company in Hesston, Litwiller returned to Goshen College, where he worked in the admissions department and in career counseling. He was instrumental in conceptualizing and administering the career services program, as well as the mentorship and colloquium programs.
After his retirement in 2000, Litwiller and his wife Faye spent two years as volunteers at Little Eden Camp in Onekama, Mich. He was an active member of College Mennonite Church, where he served as an elder, a Sunday school teacher, a mentor and on the gifts discernment committee.
Litwiller is survived by his wife, Faye, and three children: Matt (Lisa) Litwiller, New Paris, Vonda (Ref Fransen) Litwiller, Goshen, and Laura (Mark Tenekjian) Litwiller, Northampton, Mass.; and five grandchildren.
He enjoyed golfing, tennis, fishing, biking, woodworking and traveling, including a 250-mile backpacking trip through Spain and various trips to National Parks.
Memorials may be made to the Maple Leaf Athletic Club, Jubilee Fund at College Mennonite Church or Little Eden Camp. Online condolences can be shared at www.yoderculpfuneralhome.com.