Goshen College students bring home awards for newspaper and literary publication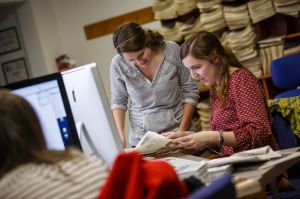 Goshen College students recently received awards during a state competition for their involvement with campus publications.
The Indiana Collegiate Press Association (ICPA) presented awards at its annual conference on April 13 at Indiana University at Bloomington. Among the winners were staff members of The Record, the student newspaper, and Red Cents, a student arts journal.
Three staff members of The Record received individual awards.
Twila Albrecht took second place in best news feature reporting for a profile of Marvin Graber, a piano tuner from Goshen who is blind. Kate Stoltzfus received second place for her op-ed entitled "A book is not a Nook," a tribute to the significance of printed books. Phil Scott was awarded third place for best editorial cartoon.
The Record also received several team awards. The spring 2012 Reporting for the Public Good class earned third place in the special issue category for their series of articles on race and culture in Goshen. The fall 2012 Writing for Media class received second place for best pullout section with their coverage on the municipal, regional and national election races.
The awards cover the calendar year 2012, during which time Matthew Amstutz served as editor during the spring semester and Becca Kraybill during the fall semester. Duane Stoltzfus, professor of communications, serves as the paper's advisor.
In addition, a second-place award for best themed issue went to Kraybill and her staff for their Oct. 11 anniversary package on the death of James Miller, the biology professor who was murdered in 2011.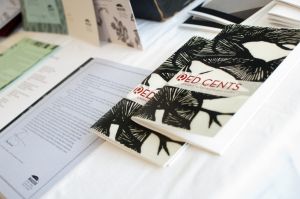 Red Cents, a literary and arts journal edited and published by students, took several honors for its 2012 edition. In group awards, the journal won first place for best single issue, third place for the best overall design and third place for best literary journal of the year.
In individual awards, Kate Stoltzfus won first place for best free verse poem with her poem "Oracle." Mary Roth won second in the same category for her poem "Elder Song." Sophie Lapp won third place in the category of best photographic art.
The editoral team for the 2012 issue included Annie Martens ('12), Kate Stoltzfus, Lauren Stoltzfus and Natasha Weisenbeck. Ann Hostetler and Jessica Baldanzi, professors of English, co-advised the magazine.
The association's annual contest recognizes the best student work in Indiana college newspapers and other publications. Goshen College is entered in Division III, for colleges with a non-daily publication and an enrollment of 2,000 or fewer full-time students.
-By Becca Kraybill
Duane Stoltzfus contributed to this press release