Class of 2013 encouraged to seek God's love as well as authentic relationships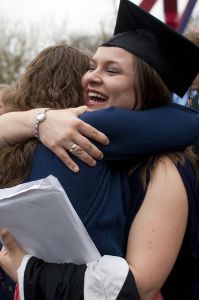 RELATED LINKS
---
Members of Goshen College's Class of 2013 received undergraduate and graduate degrees on Sunday, April 28 after being encouraged to seek God's love that surpasses knowledge, as well as true and authentic relationships.
The Class of 2013 consisted of 277 graduates who were awarded the following degrees: 185 Bachelor of Arts, 55 Bachelor of Science in Nursing, 21 Bachelor of Science, 14 Master of Science as family nurse practitioners and two Master of Arts in Environmental Education.
At a morning baccalaureate worship service in the college's Church-Chapel, President James E. Brenneman delivered a sermon titled "Love in the Clouds of Unknowing," based on Ephesians 3:16-19, in which the Apostle Paul speaks of God providing "love that surpasses knowledge."
Although philosophers, social scientists, civil rights activists, educators and many others have described the quest for knowledge as a central goal of life, Brenneman said "love in the cloud of unknowing" can surpass knowledge as well as bridge profound differences.
"When Jesus said, 'Love your enemies,' it was not just a nice cliché," Brenneman said. "Jesus sensed that until one learned to love someone who profoundly disagrees with you, you, and we, have not truly known love. Indeed, one of the best ways to learn, to grow, to know it all, is to wrestle with alternative points of view."
Brenneman praised the graduates for their spirit of love, which he said allowed them to adjust well to college, endure separation from family members and friends, thrive despite academic adversity, sorrow and heartbreak and to give back through their donations and service to the community and the world.
"You have held newborns in Nicaragua, taught English in Cambodia, served the deaf community in Peru, held basketball camps down the street. You have learned to live lives of service and learning on every inhabitable continent on earth. By my estimation, in the four years you were here at Goshen College, all students, along with faculty, staff, and administrators, showed God's love for others with more than 60,000 service hours per year that you were here. You, my dear students, have embodied a 'love that surpasses knowledge.'"
Brenneman closed his sermon by encouraging the graduates to remember the central message of the Apostle Paul in 1 Corinthians 13 that "faith, hope and love, abide, but the greatest of these is love," which is an enduring gift of God.
"I pray with St. Paul, and all your beloved professors, that more than any diploma presented to you … that each of you for the rest of your days may continue to receive power to know the height and depth and the breadth and the width of the love of God in Christ – a love that surpasses all knowledge."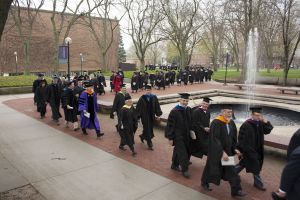 At 3 p.m. Sunday, under slate-gray clouds, 138 current and retired faculty members led the graduates in a procession into the gymnasium of the Roman Gingerich Recreation-Fitness Center for the 115th Goshen College Commencement. The Goshen College Commencement Orchestra, directed by Assistant Professor of Music Christopher Fashun, played a prelude, a processional and recessional.
Brenneman welcomed a crowd of about 2,000 people gathered for the ceremony by describing the joy of grandparents, parents, and other family members, friends, faculty, administrators, staff and the accomplishments of the graduates the past four years.
"Our journey together has been filled with lots of hard work, late nights, poetry jams, bicycle rides, deep learning and joyful memories. We came with questions and leave with a few answered, but many more to ponder. We have prayed together, shared lots of fun, some pranks, loads of goodwill, a few severe mercies and deep sorrows," Brenneman said. "In the end, when the last diplomas are given, when all is said and done, I hope and believe that each of us has become better individuals having encountered each other on this part of our journeys."
Brenneman acknowledged the tragic loss of Millicent M. Morros, 48, who was killed on March 14 in downtown Goshen. She received a bachelor's degree in organizational leadership at Sunday's ceremony and a moment of silence was observed on her behalf. Her classmates in the adult program wore pink roses in her honor.
After an invocation and the hymn, "Joyful, Joyful, We Adore Thee," Brenneman introduced the commencement speaker — Dan Charles, a food and agriculture correspondent for National Public Radio (NPR). Before working at NPR, Charles was an independent radio producer and writer and he has contributed articles on technology, public health, environment and education for publications including National Geographic, Science and the Washington Post.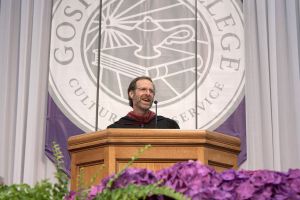 In his commencement address, "Searching for what's real in a digital world," Charles talked about growing up in a rural Mennonite community near Lancaster, Pa., and how his life was enriched by Goshen College graduates, who have become some of his closest friends. Charles said he has developed close connections with others and enjoyed a true sense of community, but worries that young people today have a much more difficult time searching for what is true and authentic.
First, Charles, said, an increasing number of people aren't interested in knowing whether or not what they think is true; they reject, out of hand, anything that challenges their own beliefs. They also refuse to absorb new and contradictory information.
"Our job – not just my job as a journalist, but the job of all of us – is to search for the best, the most true and useful knowledge and understanding that we can, not fake facts that sound really good," Charles said. "It takes passion to sort out rumor from truth; to be willing to consider evidence that contradicts our assumptions; to spend the time searching for answers to hard questions. It takes passion to really learn."
Second, Charles said, cell phones and computers have made it more difficult to have authentic communication with others and relationships based on face-to-face contact. "How much of you gets communicated through text messages? To put it another way, how real is the version of the world that you encounter through that screen?"
Charles closed his speech by cautioning the graduates against replacing actual life with something "endlessly entertaining and always at our fingertips, but less authentic" – electronic devices, like smart phones and tablet computers, and social media platforms like Facebook.
"This authenticity I'm talking about is connected to values that … are at the heart of the religious tradition that built this college: humility, honesty, community," Charles said. "Those are values to live by, even today – especially today.
"So cook a meal. Have your neighbors over for dinner. In fact, make that dinner a regular tradition. Plant a garden; make it a community garden. Sing a song. Play an instrument. Paint. Use that iPad to make your own movie. Build a life that's true and real."
After Charles' address, Director of Student Financial Aid Judy Moore, who is retiring, was recognized for her 12 years of service to the college.
The graduates then received their degrees and signed their names in the Goshen College historical book – a tradition linking them to generations of alumni.
Presiding over the conferring of degrees was President Brenneman, who congratulated graduates after Academic Dean Anita K. Stalter announced their names. Assisting in the presentation of master's degrees were David Ostergren, director of the graduate program in environmental education, and Brenda Srof, director of the graduate program in nursing.
After the degrees were conferred, the graduates, the faculty and the audience joined in the singing of "For the Beauty of the Earth."
Also taking part in commencement were Rick Stiffney, the chair of the Goshen College Board of Directors, who offered the invocation, and Assistant Professor of Peace, Justice and Conflict Studies Regina Shands Stoltzfus, the mother of graduating social work major Rachel Maya Stoltzfus of Elkhart, who gave the benediction.
After the benediction, faculty and administrators lined the main corridor of the Recreation-Fitness Center and applauded the departing seniors. The "applause tunnel" tradition also takes place at the beginning of each academic year to welcome students back to campus. This year, graduates, family members and friends lingered outside for hugs and photographs despite a misting rain.
Represented in this year's graduating class were students from 23 states, including 114 from Indiana, and from 20 countries.
The undergraduate class included one graduate with a triple major, 28 graduates with double majors. Thirty-four students graduated with highest honors – grade point averages of 3.9 to a perfect 4.0. In addition, 92 others were on track to achieve GPAs of 3.60 and above.
The academic program with the largest number of graduating students was nursing, which held its traditional pinning ceremony the day before commencement to recognize the 26 individuals who completed the traditional, four-year program. This year marked the 60th graduating class for the nursing program. In addition, 29 individuals were granted degrees through the Bachelor of Science in nursing degree completion program and 14 individuals got Master of Science in nursing degrees.
Other top undergraduate majors in the Class of 2013 were organizational leadership (21), biology (20), business (16), social work (14), interdisciplinary (12), elementary education/special education (12) and environmental science (11).
As in past years, many graduates took the Graduation Pledge of Social and Environmental Responsibility, a national program at more than 100 colleges and universities. By signing the pledge, the graduates promised to "explore and take into account the social and environmental consequences of any job I consider and will try to improve these aspects of any organizations for which I work."
Graduates and faculty members planned the morning baccalaureate service. It featured an instrumental prelude on viola and piano by graduating seniors Chelsea A. Wimmer, a music major from Telford, Pa., and Emily M. Trapp, a music major from Canby, Ore.
The service began with a congregational hymn, "Here in this Place," led by Justin N. Yoder, a music and interdisciplinary major from Perkasie, Pa., followed by a formal welcome from Alita J. Yoder, a biology major from Elkhart. After the congregational hymn, "I Sing the Mighty Power of God," senior reflections were offered by Rebecca W. Yoder, a social work major from Lancaster, Pa., and Juan Carlos Diaz, an art major from Goshen.
Following the scripture reading and President Brenneman's sermon, a cello quartet and vocal ensemble of 24 graduates performed "The Seed that Lands on Fertile Ground," which was composed by Levi Smucker, a music major from Akron, Pa., with text by Justin Yoder. Its moving refrain featured the words: "How wide, how deep, how high, how long; may the roots that nourish and anchor hold strong; and may love bloom boldly in a world of wrong; wherever the Spirit may blow, let seeds of hope grow, as we journey along."
The baccalaureate service concluded with a prayer of blessing by Minister of Worship Gwen Gustafson-Zook, a congregational sending song, "You Shall Go Out with Joy," and a benediction by Alita Yoder.
Other events during the busy weekend at Goshen College included a senior program, which showcased the talent of the Class of 2013, a senior art exhibit, academic department receptions for graduates and their families, a reception for adult programs and an evening reception hosted by President Brenneman and his wife, Dr. Terri J. Plank Brenneman.
CLASS OF 2013 HIGHLIGHTS
Total number of graduates: 277
Number by category: 14 candidates for Master of Science degrees, 2 candidates for Master of Arts degrees, 185 candidates for Bachelor of Arts degrees, 55 candidates for Bachelor of Science in nursing degrees; and 21 candidates for Bachelor of Science degrees
Number of double majors: 28
Number of triple majors: 1
Number of students graduating with highest honors — grade point averages of 3.9 to a perfect 4.0 (based on grades as of December 2012): 34
Number of students graduating with GPAs of 3.60 and above (based on grades as of December 2011): 92
Number of states represented in this year's graduating class: 23
Number from Indiana: 114
Number of countries represented (other than U.S.): 20
Number of undergraduates by top programs of study: nursing, 55; organizational leadership, 21; biology, 20; business, 16; social work, 14; interdisciplinary, 12; elementary education/special education, 12; environmental science, 11; art, 10, Bible and religion, 10; molecular biology/biochemistry, 10.
— Written by Richard R. Aguirre