Dwight Weldy, retired professor of music, dies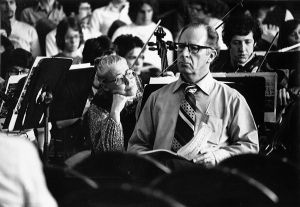 At the age of 95, Goshen College Professor Emeritus of Music Dwight E. Weldy died on Jan. 12, 2013, at Greencroft Healthcare Center in Goshen.
Weldy taught in the music department from 1948 to 1983, where he led courses in music education, music theory and music appreciation. He also gave individual voice lessons and directed the Goshen College a capella touring choir and freshman choir.
"He had a kind and willing spirit, available, and always cheerful. He seemed never to have a depressing day," said Mary Oyer, Goshen College Professor Emerita of Music. "His natural tenor voice was a gift to his voice students and to the a cappella chorus which he directed for many years. He was a valued soloist for cantatas and oratorios. I remember especially his singing the narrators part in in the Passion according to St. Matthew by Heirich Schütz."
Weldy began teaching in a one-room schoolhouse while he finished his own education at Goshen College. He graduated in 1940 with an education degree, and spent several years teaching elementary school in the area. He married Marjorie Conrad on June 8, 1941 in Smithville, Ohio.
Weldy spent almost three years in Civilian Public Service before returning to education, teaching high school vocal music in Akron, Ohio. He soon became a voice instructor at Kent State University, and in 1948 he returned to Goshen College to join the music faculty.
While teaching at Goshen College, Weldy took two years of study leave to serve as a choral assistant at Northwestern University in Chicago, where he directed the men's glee club and collaborated with the Chicago Symphony. Weldy later received a Doctorate of Music in Vocal Performance from Northwestern in 1963.
During his two sabbaticals in 1969-1970 and 1976-1977, Weldy served as a visiting professor and music director at Sulliman University in Dumaguete City, Phillipines.
He also served many years as a judge for Indiana high school vocal contests, conducted high school music festivals in various communities, directed the Goshen Community Chorus for over a decade and performed as soloist for churches and synagogues around the Midwest.
He was a member of the National Association of Teachers of Singing, the American Choral Directors Association and the Chicago Singing Teachers Guild. He served on the Mennonite Church denominational music committee and hymnal revision committee.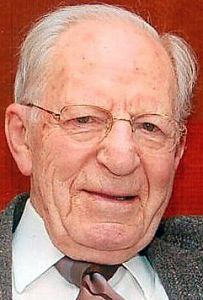 After he retired, Weldy continued to sing and direct music for churches. He served as music director at First Presbyterian Church in Elkhart, Ind., for five years and was a member of College Mennonite Church in Goshen.
"In retirement, he maintained a lively mind, phoning his friends with his comments on his reading and performances he had heard. His contribution to vocal music will be remembered long among his students, his congregation and the wider church," Oyer said.
Weldy was born on Jan. 10, 1918, to Jacob and Rhoda (Landis) Weldy of Wakarusa, Ind. He is survived by four children, Cheryl (James) Martin, Greenwood, Ind.; David (Ann) Weldy, Manclova, Ohio; Mary (Tony) Clasen, West Liberty, Ohio; and Ruth (Kevin) Fitz-Gerald, Lexington, Kentucky; 15 grandchildren; and six great-grandchildren.
He was preceded in death by his wife of 70 years, Marjorie; a sister, Bertha Harter; and three brothers, Arthur, Eldon and Myron Weldy.
A memorial service was held on Saturday, Jan. 19 at College Mennonite Church in Goshen, which followed a family burial at Olive East Cemetery in Wakarusa, Ind.
Memorial contributions may be made to Goshen College by visiting www.goshen.edu/give, or to Goshen Care at Home Hospice. To leave condolences for the family, visit www.yoderculpfuneralhome.com.