Samuel Yoder, Professor Emeritus of Education, passes away at 92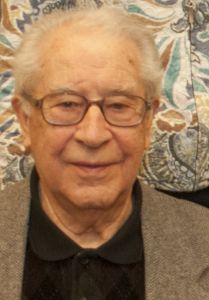 Goshen College Professor Emeritus of Education Samuel L. Yoder died on Sunday, Dec. 23, 2012, at the age of 92.
Yoder began teaching education and psychology at Goshen College in 1961, and became director of teacher education in 1969. He retired in 1986.
During his tenure, Yoder oversaw the adoption of programs in early childhood education, junior high/middle school education, bilingual/bicultural education and family life education. He led Study-Service Term to Belize in 1977-78 and to China in 1983.
After he retired, Yoder worked as an interim director of the instructional materials center and interim director of international education at Goshen.
"He was a story teller and had a good sense of humor," said Kathy Meyer-Reimer, professor of education at Goshen College. "He would sometimes tell jokes with a straight face, but there would be a twinkle in his eye. He was an encouraging person and was always interested in others. He enjoyed being with people and could always keep an interesting conversation going."
Born into an Amish family on Jan. 14, 1920 in Hutchinson, Kan., Yoder and his family moved to Northern Indiana in 1938, where Yoder graduated from Shipshewana High School. During World War II, he served in Civilian Public Service (CPS), fighting forest fires in California and serving as an assistant in hospitals. It was during this time that he decided to leave the Amish church. After the war, he spent more than two years as part of a Mennonite Central Committee relief unit in Holland and Germany, working with war refugees.
Yoder returned to Indiana in 1948 to attend Goshen College. He met Lillian Zook and the two were married on June 15, 1951 in Orrville, Ohio. After receiving his bachelor's degree in education, he spent nine years teaching and counseling in the Mishawaka public school system. He received his master's degree in counseling and guidance from Western Michigan University in 1961 and in 1967 he completed a doctor of education degree at Indiana University.
In his retirement, Yoder enjoyed traveling, gardening and golfing. He volunteered at College Mennonite Church, where he was a member. Yoder continued to be an observer of Amish society and gave lectures about Amish life and culture for Elderhostels, an educational program for senior citizens, and as part of a lecture series sponsored by Greencroft Senior Center in Goshen. He was a frequent commentator on the Amish.
Because of his conscientious objector status in WWII, Yoder was featured in a documentary film called "The Good War and Those Who Refused to Fight It," which aired on PBS in 2002. In the film, Yoder spoke about his decision to become a conscientious objector and described his experience in CPS.
He was preceded in death by a son, Michael Lee Yoder in 1986, and three sisters, Anna Troyer, Edna Troyer and Polly Mast.
His wife Lillian survives along with a son, John S. (Queen) Yoder, Elkhart, Ind.; three brothers, Alvin Yoder, Middlebury, Ind., B. William Yoder, Goshen and Lee (Pensri) Yoder, Thailand; and three sisters, Sara Miller and Mary (Alvin) Miller, both of Goshen and Gertie (Orvil) Christner, Wolcottville, Ind.