Goshen College students to present art exhibit around theme of 'Lion & Lamb'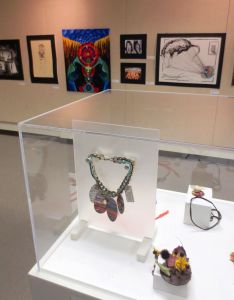 Goshen College students' thematic art exhibit: "Lion & Lamb"
Exhibit reception: Sunday, Jan. 13 from 4-5 p.m.
Exhibit dates: Thru Feb. 1
Location: The Good Library Gallery (basement)
Cost: Free and open to the public
Goshen College students will focus on the theme "Lion & Lamb" for a Student Art Show, which is on display until Feb. 1 in the college's Good Library Gallery. There will be a reception on Sunday, Jan. 13 from 4 to 5 p.m. The exhibit is free and open to the public.
This year's exhibit includes over 30 artists and over 50 works of art in a variety of media, including drawing, jewelry, printmaking, sculpture, painting, photography and ceramics. Some artwork explores the Biblical reference to the lion laying down with the lamb, others look at ideas and issues related to the animal kingdom or human psychological relationships and connections with animals, while some simply explore things that are diametrically opposite.
This is the third year a themed student exhibit has been held, with previous themes being: "Tolerance & the Other" and "North & South." Professor of Art Randy Horst said, "Themes are selected that reflect the shared values of the Goshen College community. We try to pick themes that can be interpreted in a wide variety of approaches." The Goshen College Art Department and Art Club are co-sponsoring the exhibit.
The Good Library Gallery, located on the lower level of the Harold and Wilma Good Library on the campus of Goshen College, is open from 8 a.m. to 11 p.m. on Monday through Thursday, 8 a.m. to 5 p.m. on Friday, 1 to 5 p.m. on Saturday and 3 to 11 p.m. on Sunday. Hours vary during academic breaks, summer and holidays. For gallery hours, call (574) 535-7418.