High school students: Take another look at Goshen College's affordability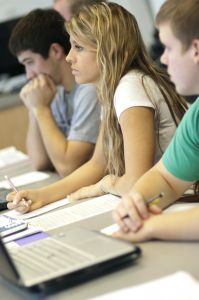 To better meet the needs of incoming students, Goshen College has recently made some changes to available scholarships and financial aid processes, giving students a reason to take another look at the college.
The recent changes include:
The Financial Aid Office has increased all academic scholarships to better recognize achievement. For example, the top academic scholarship has been increased by $3,000 per year.
The office is giving scholarship dollars to students earlier in the recruitment process so that they have a better sense of what they qualify for; they can make better informed decisions; and they can know how affordable a Goshen College education actually is.
To estimate what scholarships a student qualifies to receive, visit the college's easy online Net Price Calculator tool.
"Scholarships are just the beginning of the financial aid package and the Goshen College Financial Aid team is ready to work with all prospective students through the full process so that they can get the best possible package available to them," said Judy Moore, director of financial aid.
The best way for a student to find out all that they are eligible for in terms of financial aid is to include Goshen College when selecting schools on the Free Application for Federal Student Aid (FAFSA). This can be submitted after Jan. 1, 2013.
"And prospective students shouldn't let the sticker price for a quality private liberal arts college education like Goshen's keep them from taking another look," Moore added. For example, for a family with an income of up to $59,000, the average aid with loans is $28,600 and the average net cost is only $7,300.
Some more facts about the affordability of Goshen College education:
Goshen College costs 10% less than the national average for private colleges.
The average student debt for Goshen College graduates in 2011 was $21,953, which is almost $4,650 less than the national average for all college graduates and $5,550 less than the average for all college graduates in Indiana.
99% of full-time students receive some form of financial aid.
The average aid package of scholarships, grants and loans total $19,470.
In 2012, Kiplinger's ranked Goshen 75th among all liberal arts colleges for being a "best value college," which places it 2nd among Indiana liberal arts colleges.