Goshen College's FiveCore Media celebrates first year of video creativity and quality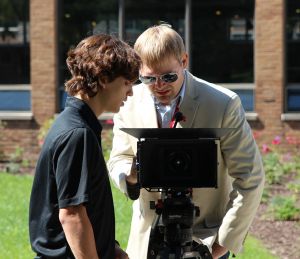 FiveCore Media, a local video production company comprised of Goshen College communication students under the leadership of general manager Kyle Hufford, has shot, edited and produced over 20 videos in their first year of business. From a documentary of a Grammy nominated choir to medical promotional films, these young professionals have built up an impressive portfolio since opening for business in September 2011.
FiveCore Media offers an array of services including promotional and instructional videos, event coverage, motion graphics and script writing. Some of the company's clients include Mennonite Church USA, Radiation Oncology Resources and WGCS The Globe. Though FiveCore has worked with many outside organizations, some of the company's first clients were academic departments at Goshen College including business, American Sign Language and Latino studies.
"FiveCore Media is uniquely positioned to not only educate Goshen College communication students but also provide a much needed service to a community of small entrepreneurial businesses," said General Manager Kyle Hufford.
FiveCore is an outgrowth of the college's successful communication department. This past year, Goshen College was named both Television and Radio School of the Year in Indiana, the first time that any school has won both awards in the same year. Hufford is excited and confident in the work that these students are producing.
"I have worked with college students most of my career so I know the kind of talent they have. What they lack in experience they make up for in enthusiasm and an open mind to learn. These are powerful skills that come in handy with creative work."
The students are equally as excited about their work. "This business has really provided us, as students, with an opportunity to work within our desired field and in return we give our clients professionally produced videos at a competitive price," said Summer Hasan, a graduated senior. "We have a great group of creative minds and we have a lot of fun working together."
As the second year of work begins, FiveCore is eager to meet with interested clients and get a start on new projects. "We have already met so many great people in the area, and as a new Chamber member, we are looking forward to working with the strong local business owners here in Goshen," said Hufford.
To see some of FiveCore's work, visit their website.