Parables worship team is 'Creating Sacred Space' through song, stories and drama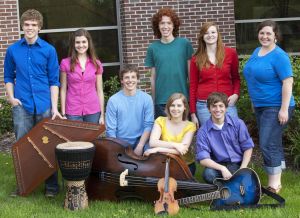 The Goshen College worship team, Parables, will use music, personal stories and original drama to worship in congregations and other venues over the next year.
The program for 2012-13 is developed by the eight student members, with direction and leadership from Professor of Music Deb Brubaker and Minister of Worship Gwen Gustafson-Zook, from dramas, personal faith stories and music from across the globe, and reflects ideas on the theme "Wherever You Are: Creating Sacred Space."
"The theme is about embracing diversity in its many forms and looking for ways to acknowledge that when we meet others different from ourselves, we can work to find points of connection," said Brubaker.
Parables includes: Stefan Baumgartner, a sophomore sociology and music major from Goshen; Rhianna Cockrell, a sophomore music and theater major from Rileyville, Va.; Micah Detweiler, a sophomore music education major from Kokomo, Ind.; Hillary Harder, a sophomore music and Spanish double major from Wichita, Kan.; Gloria Showalter, a sophomore peace, justice and conflict studies major from Waynesboro, Pa.; Jake Smucker, a sophomore music major from Woodward, Pa.; Ruth Wiens, a senior biochemistry major from Newton, Kan.; and Seth Yoder, a sophomore music and informatics double major from Quakertown, Pa.
2012-13 schedule for Parables:
Sept. 30 – 9:30 a.m., Assembly Mennonite Church, Goshen, Ind.
Oct. 6 – 9 a.m., Goshen College Alumni Breakfast
Oct. 14 – 9:30 a.m., Kern Road Mennonite Church, Mishawaka, Ind.
Oct. 20 – 7 p.m., Paoli Mennonite Church, Paoli, Ind. (note change of time)
Oct. 21 – 9:30 a.m., First Mennonite Church, Indianapolis, Ind.
Oct. 21 – 7 p.m., Howard-Miami Mennonite Church, Kokomo, Ind.
Oct. 24 – 9:20 a.m., Bethany Christian High School Chapel
Oct. 28 – 9:30 a.m., Benton Mennonite Church, Goshen, Ind.
Jan. 18-20 – Camp Friedenswald Jr. High Winter Retreat
Performance dates are still being confirmed and more will be added throughout the year. For more information about Parables and scheduling the group, contact Gwen Gustafson-Zook at (574) 535-7780 or e-mail gwengz@goshen.edu.