Actor Carl McIntyre to share his journey with aphasia in Umble Master Class on Sept. 11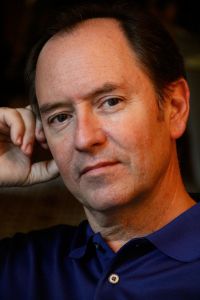 Umble Master Class lecture: "Hope is a Four Letter Word," by Carl McIntyre
Date and time: Tuesday, Sept. 11 at 7:30 p.m.
Location: Umble Center
Cost: Free and open to the public
GOSHEN, Ind. – Carl McIntyre is a seasoned actor who acquired the communication disorder aphasia after experiencing a massive stroke at age 44. On Tuesday, Sept. 11 at 7:30 p.m. in the Goshen College Umble Center, McIntyre will give an Umble Master Class lecture, which will begin with showing the 2010 short film, "Aphasia," in which he stars. Following the film, which recounts McIntyre's experience with aphasia, he will share his process of coming to terms with his condition and making positive and inspired decisions about his new life and future in a presentation titled "Hope is a Four Letter Word."
Aphasia impairs the ability to speak and understand others, and most people with aphasia experience difficulty reading and writing. Since aphasia does not affect intelligence, people who suffer from this disorder often become outsiders, isolated from a world that thrives on communication.
After his stroke, McIntyre was given a deadline of 18 months for recovery. After that, he was told there would be little to no improvement. He met this challenge head-on and defied expectations of most experts. Although his speech is still affected, McIntyre is an example of perseverance, determination and personal motivation. He shows humor, strength of heart and an amazing spirit in the face of staggering obstacles.
To learn more about the Carl McIntyre Aphasia Project, visit www.aphasiathemovie.com or become a fan of Aphasia the Movie on Facebook.
The Roy H. Umble Master Class brings nationally known practitioners and experts in communication and theater to the Goshen College campus annually for events and activities that enrich and inspire students, faculty, the broader campus and local and church communities. Roy H. Umble (1913-1996) dedicated his life as a faculty member to Goshen College and its heritage. He had a deep commitment to the Mennonite Church and expressed his faith to many generations of Goshen College students through his involvement in speech and theater. The Master Class was established with gifts from Goshen College alumni who had benefited from Roy's teaching and inspiration. An initial gift from Janette Brunk in 1994 served as a tribute both to Roy and her parents, Perry and Fern Brunk, who developed an appreciation for theater because of their daughter's involvement in it. In 1996, alumnus David E. Yoder, one of Roy's many former students and admirers, initiated a fund-raising effort to build an endowment to support a master class.