Going the distance: Justin '05 and Melissa Gillette '05 love to run marathons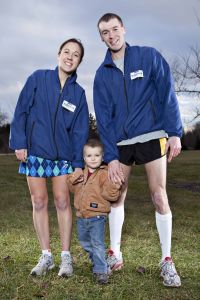 Justin Gillette '05 came up with the idea of running marathons for a living by default. He ran his first marathon at age 16 and since then has run 99, winning 45 of them and setting 10 course records.
While at Goshen College, Justin knew that he loved running, and he wanted to see how far his passion could take him. He told Associate Professor of Physical Education Val Hershberger, his academic adviser, what his goals were at the start of his college career. "I laid out to Val what my goals were and I said when I graduated I wanted to be good enough at running that I can run professionally, and I wanted to meet a wife while I'm at Goshen College," he said. "Val laughed at me, and I said, 'What? You don't think I'm going to meet a wife?'"
He met both those goals, though getting his wife, Melissa (Lehman) Gillette '05, to agree was harder than he planned. The two met as first-year students on the Goshen College cross country team. Justin immediately was interested in Melissa, but it took three years of asking before she agreed to go on a date with him. After graduation, they got married, and they now have a 2-year-old son, appropriately named Miles. They both are coaches for GC's cross country team.
Last year, Justin ran 20 marathons. This year, he plans to run 25 and next year he will turn 30, so he wants to run 30 marathons. "I guess I'm kind of on an upward trend. It's hard to limit myself," he said. "Now, using mathematical statistics, if I continue at this rate, before long it's just a matter of time before I do 100 marathons in a year!" he joked.
Justin said it's easy to increase the number of races each year because his body gets acclimated to the training it takes and the recovery between races. His training consists of running 120 to 135 miles a week.
When Melissa decided to date Justin, she didn't realize that also meant agreeing to try marathon running. Justin convinced her during their junior year to try her first marathon. "He told me, jokingly, 'You know, you're not that good, but, if you go for longer, you might be able to do something!'" said Melissa.
Apparently she was able to do something. Melissa broke the world record for the fastest woman in an indoor marathon at the Maple Leaf Indoor Marathon in February – a race she wasn't even planning on running and the first indoor marathon she's ever run. She decided the day before the race to run it because she needed to get a long run in that day and they didn't have a babysitter. Her time was 3 hours, 8 minutes and 53.8 seconds.
"I thought if I felt good, then (the record) would be attainable, but I didn't want to put pressure on myself because it's a long race," she said. "I thought about the race more as the amount of time I would be running, so I wasn't counting laps or thinking miles." If she had counted laps, she would have reached 204.
Still, Justin likes to tease her. "She's only won 14 marathons, so that's not that many…" he joked. So far, she has 43 marathons under her belt.
In addition to running 80 to 90 miles a week, Melissa is also a student at Notre Dame working toward a doctorate in biology. She is finished with all the required courses, so now she's researching breast cancer, investigating the factors that cause cancer to develop and spread.
After graduating from Goshen, she got her master's degree in medical molecular genetics at Indiana University and did genetic counseling for a year, which sparked her interest in finding out more about the hereditary forms of cancer. Before going back to school at Notre Dame, she spent a year teaching at GC as an interim professor of biology in 2008.
When she started taking classes again last year, she said it was her worst year for training ever. "I had to find a balance between family, school and running, and running was the first thing that had to take a back seat at that point," said Melissa. "Now we've gotten into a routine that works for us and I've been able to recover and get back into shape."
With both Melissa and Justin needing to get a long run in every day, Melissa working on her doctorate degree during the day and a 2-year-old to take care of, their lives require keeping a fairly strict schedule. Justin stays at home with Miles during the day, running while he pushes him in a stroller, and Melissa gets home in time to get her run in before it gets dark.
Justin looks at running as anyone would look at any other job: it's a way to earn a living. Running is different than many other mainstream sports, he said, because with running you have to prove yourself and build up credentials before getting good sponsorship deals. Justin said it took them two years out of college to get their first good sponsorship deal, and he thinks the offers will continue to improve as he continues to improve his running.
"I could just give up on the world of running and enter into the corporate world and have a regular paying income, or, I could just keep pushing ahead like I'm doing and see what kind of mental and physical barriers I can break," he said. "We don't live a luxurious life, but all of our needs are taken care of and we have a lot of fun and we travel the country." Races have taken the Gillettes from Hawaii to Florida to New York and back.
As of February, Justin was ranked third in the country. "I'll be second by the time this story goes out, because I'll just have to win one more!" he said. His prediction was true; as of May 9, Justin was ranked second in the United States and 13th in the world. Even so, he still sees room for improvement.
"For me, most of my races I run in about two and a half hours, so that's a pretty good time slot that there's various components to improve on," he said. "Maybe I didn't run fast enough up that hill at mile 19 or maybe I didn't take my fluids in properly at mile eight. You're never going to run a perfect race, so that's part of the draw to keep coming back too. And it's kind of neat to see what your body can handle."
Justin's body can handle a lot. Last fall he ran nine marathons in 11 weeks, and didn't even realize it until someone mentioned it to him afterward. "We don't look backward, we're always looking forward to the next one," he said.
You can follow the Gillette's journey at their blog: www.gilletterunning.blogspot.com
— By By Alysha Landis '11, in the Summer 2012 Bulletin