Sophomore advances to final round of international composition competition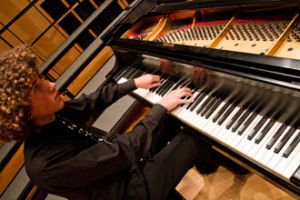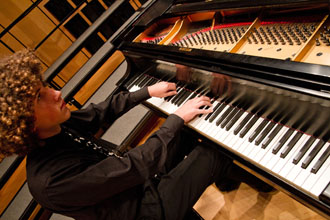 GOSHEN, Ind. – Goshen College Sophomore Henry Stewart (Lancaster, Pa.) has advanced to the final round of the Villiers String Quartet's New Works Competition with his original composition "Threnody/Images." His composition received the most votes – 28 percent of over 1,000 votes cast by an online audience – of the six competitors in the semifinal stage, and at 19, he's the youngest and only undergraduate of the bunch.
Stewart and two other competitors will have their works performed by the Villiers Quartet at a live concert at St. Andrew's Church in London on April 29. The winner will be decided at the concert by audience vote and will receive a cash prize of £500, a studio recording of his piece and the performance of his work by the Villiers Quartet in upcoming seasons. Conducter and violinist Thomas Kemp will host the proceedings and the concert will be streamed online atwww.villiersquartet.com.
Stewart is a music composition and biochemistry double-major and is advised by composer Jorge Muñiz, adjunct professor of composition at Goshen College and coordinator of music for the Raclin School of the Arts at Indiana University South Bend.
The Villiers Quartet established the competition for original, unpublished pieces written by composers under the age of 35 for string quartet. It is the first classical music competition of its kind to allow public and audience votes decide the winner. The quartet received 54 entries for the compeition from composers worldwide by early January, and six semifinalists were announced on Feb. 22. The three finalists, which include Riho Maimets, a master's composition student from the University of Toronto, and Chris Roe, a master's composition student from the Royal College of Music (London), in addition to Stewart, were announced on April 5 based on a public online vote.
"Threnody/Images" is written in two movements; one is inspired by a photograph of a woman by Gary Goldberg published in Jerry Mason's 1979 collection of photography "The Family of Woman" and the other is based upon a hallucination of a great, terrible black fire on the horizon of an empty plain that Stewart experienced in a childhood fever.
"The juxtaposition of these two images – the woman and fire – and the music therein has become such a steady theme throughout the creation of this work that now I see one image and the other alike, as parts of the whole," said Stewart.
For more information about the competition, visit www.villiersquartet.com.
Editors: For more information about this release, to arrange an interview or request a photo, contact Goshen College Acting News Bureau Coordinator Alysha Bergey Landis at (574) 535-7762 or alyshabl@goshen.edu.
### 
Goshen College, established in 1894, is a residential Christian liberal arts college rooted in the Anabaptist-Mennonite tradition. The college's Christ-centered core values – passionate learning, global citizenship, compassionate peacemaking and servant-leadership – prepare students as leaders for the church and world. Recognized for its unique Study-Service Term program, Goshen has earned citations of excellence in Barron's Best Buys in Education, "Colleges of Distinction," "Making a Difference College Guide" and U.S. News & World Report's "America's Best Colleges" edition, which named Goshen a "least debt college." Visit www.goshen.edu.